WoW
Aug 12, 2016 1:00 pm CT
How to get your own Pocket Fel Spreader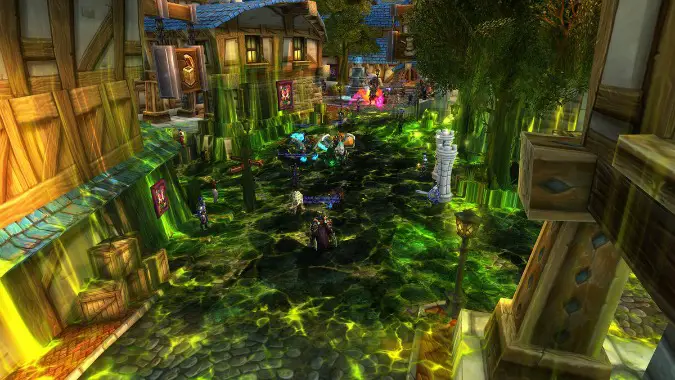 You may have seen a green taint spreading over parts of the Stormwind or Ogrimmar this week and think the Legion has invaded the capitol. Well, yes and no. It turns out that one of the drops as part of the pre-Legion event is the handy little Pocket Fel Spreader, but getting one for yourself is a little tricky.
They drop from the Doomsayers in Stormwind and Ogrimmar. More specifically, the drop from the Doomsayers who are secretly Dread Infiltrators in disguise. So to get one, first you have to find out which Doomsayers are really demons. To do that you need to talk to the right one while having some ability to sense demons. There are three ways of doing that:
Play a Demon Hunter and use their Spectral Sight ability on the Doomsayer
Play a Hunter and use their Track Demons ability
Play any class and use a Elixir of Detect Demon or a Cursed Vision of Sargeras helm
You'll then have to run around and talk to each Doomsayer until one of them gives you an alternate dialogue option rather than offering you a pamphlet. Accept it and they transform into a Dread Infiltrator. This is not a mob you'll be able to solo, so bring friends or hope the others in the city will jump in.
Once you defeat it, there is a chance the Pocket Fel Spreader will drop. This toy is only available as a drop during the pre-Legion event so if you want it, farm it before August 30th. You can even use the LFG tool to get into groups running through the city talking to every Doomsayer looking for infiltrators if you're having no luck on your own.