Gul'dan joins the free hero rotation just before Gamescom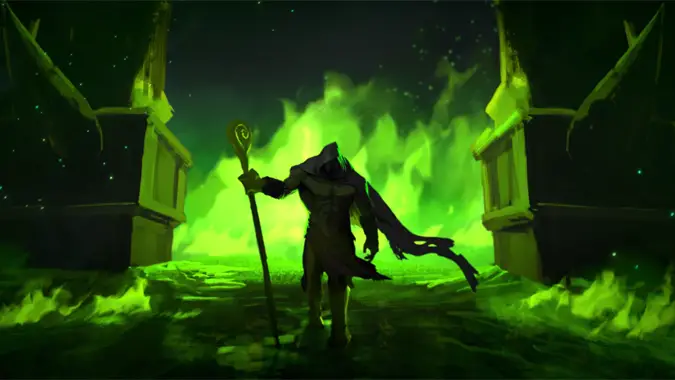 It's a quiet week in Heroes of the Storm, or at least it is right now, early on a Tuesday morning. Gamescom is kicking off soon, and with it we expect to hear about the next big thing coming from Blizzard — and since we don't know of any upcoming heroes, it would be a good time to announce them.
But while we wait for Gamescom to kick the news week into overdrive, we have a new hero rotation, with Gul'dan joining the free lineup for the first time. If you haven't had a chance to give him a try, now's the time. So let's dive right in and check out the week's rotation and the team's thoughts.

Assassins
Gul'dan
Anne: Gul'dan AND Illidan in the same rotation feels awfully appropriate considering Legion and all.
Liz: Fight fight fight fight!
Anne: All they really needed was Arthas thrown in the mix just to be REALLY interesting.
Alex: I have yet to play him (had to save my hard earned gold for Auriel) and honestly haven't seen him in very many of my games. I think I know less about how he plays than any another hero in the game — which is probably my fault, but also pretty exciting. I look forward to taking him for a spin.
Illidan
Jaina
Anna: Jaina being on rotation reminds me that I need to play Overwatch with Matticus again.
Matticus: No.
Anna: So I can play Mei, wall him in spawn, and sing Frozen at him over voice.  "Please, I know you're in thereeee~ People are asking where you've been…~"
Li-Ming
Anna: It's another of those weeks where there are hard counters to watch out for. I feel bad for the poor souls trying to learn Ming vs illidan and etc. Even Diablo may give her a hard time depending on how tilted she is, and how good her peels are. Morales is gonna have a tough time with all that burst and dive, too.
Specialists
Sylvanas
Support
Li Li
Liz: We have to have one newbie-friendly hero every week, and this week it's Li Li. Does that put Raynor on the rotation next week? Maybe!
Morales
Warriors
Artanis
Diablo
E.T.C.
So, readers, who will you be playing this week? (And, no, we aren't just asking so we can pick the perfect counters. Sure, that's part of the reason we're asking, but not all of it.) Are you planning on giving Gul'dan a trial run for the first time (or are you too angry with his recent appearance in World of Warcraft to want anything to do with him)? Whoever you're playing, as always, we'll see you in the Nexus!