WoW
Aug 30, 2016 5:00 pm CT
Transmog Tuesday: Virtuous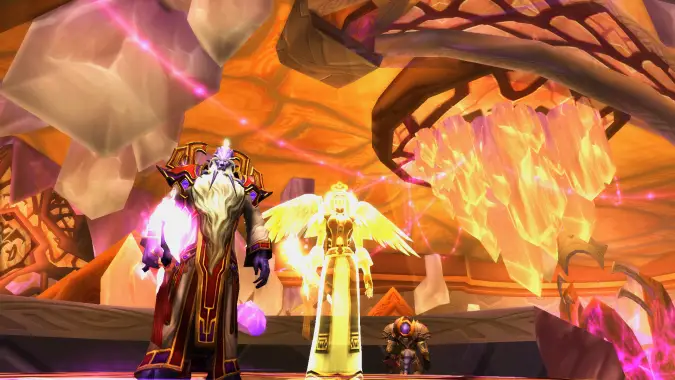 It's Transmog Tuesday, everyone! That's right, with the Appearances system alive and kicking in WoW, there's never been a better time to show off your fantastic fashion collection — and that's exactly what we're here to do! Every two weeks, we'll be debuting a new theme to base your transmog set around. When a new theme debuts, we'll be picking some of our favorites from the previous entries and showing them off for everyone to see.
This week's theme: Virtuous. Sure, some of us are perfectly content with our Eeeeeevil transmogs and slumming it with the Legion, but others want to show the Legion they're not afraid. So this time, it's all about fighting evil head-on and displaying to the world that you're a force of good. My Priest above? Normally all about the Void, but for the sake of showing she's not afraid of fighting the Legion with whatever it takes, decided to step into the Light and fight right alongside Velen with whatever it takes. Use her as inspiration and share your own Virtuous set!
There are a few rules, though, so be sure to read on after the break.
Official rules:
You must actually be wearing the transmog to be featured. You're welcome to share sets from Wowhead to help get ideas or ask for advice, but only in-game screenshots will be featured on our next post.
Please submit UI-free (alt+Z) screenshots and list which pieces you're using via Wowhead's dressing room so others can collect for themselves. For example, my Priest above is using the set found here.
Save replies for discussion/feedback, not entries. I'll still be combing through all the comments, but it's harder to overlook an entry if it's your main post.
Entries will be accepted until 12:00 p.m. PST Monday, September 12th. You're welcome to show off transmog after this point, but it won't have a chance to be featured.
Be original. It's fine to use others' ideas as a springboard, but please don't take someone's else's transmog and change one or two pieces. That's super uncool.
Be creative and have fun!
I'm looking forward to what you all can come up with! And if you have any requests for future themes, drop them in the comments! But first…
Last week's winners!
A full album of last week's Evil transmog entries can be found here, but the following three get special shout-outs for being especially awesome!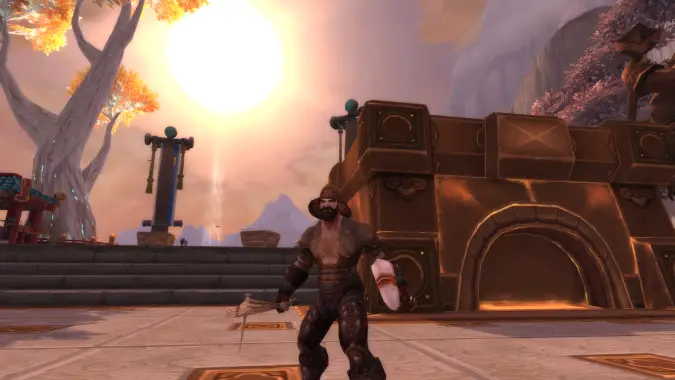 Mistah Jay because he NAILED IT!
This one goes back to an old Queue published by our dear Alex Ziebart, and gets a spot here because it not only made Alex groan but also because it's a perfectly brilliant take on what it means to be evil.
Find the set here.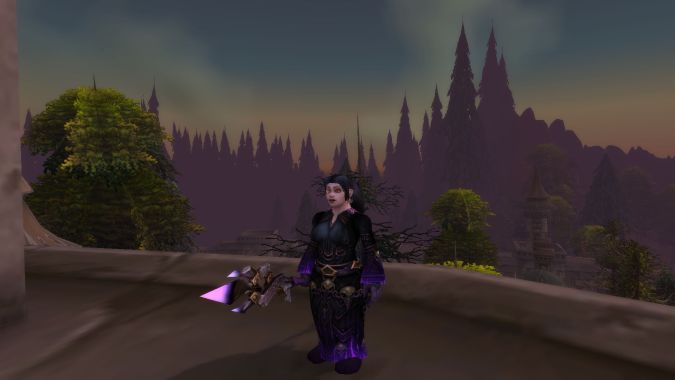 JonathanHill('s wife) with an evil set that brings it all together
This set is simple, yet effective. The reason it gets a spot here is because it manages to take several non-set-pieces and put them together in a look that works. Also, it has a monocle. Monocles are a sure sign of evil-doings.
Find the set here.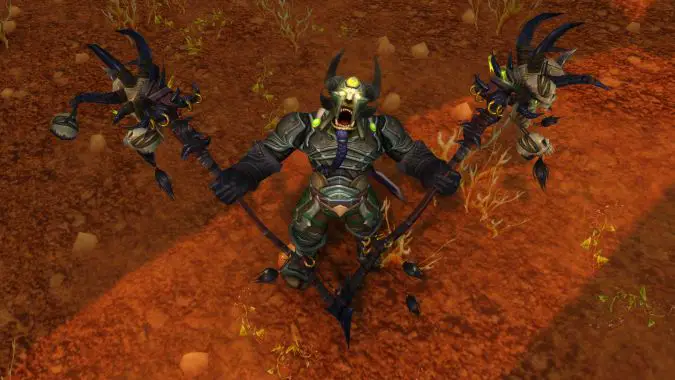 TheVernonator for not being afraid to deal with double the evil
Another simple set, but one that sends a message. That message? "I'm twice as evil as that Gul'dan fellow." Not everyone will be able to dual-wield his staves, but it still gets a spot for quite possibly being as evil as possible.
Find the set here.
Happy transmogging, folks! Good luck out on the Broken Isles!