WoW
Sep 6, 2016 1:13 pm CT
WoW Legion Companion app now live
Updated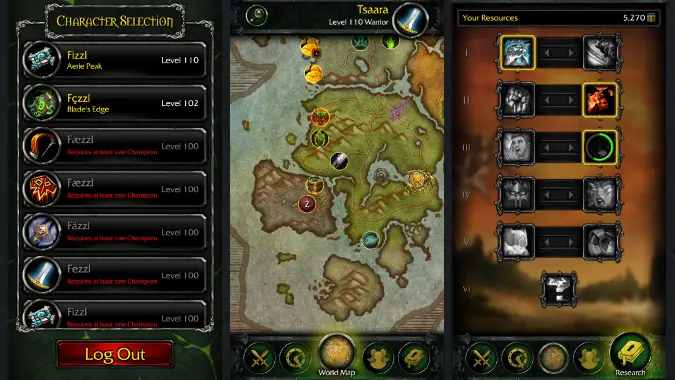 The previously announced WoW companion app is now available on both Android and iOS app stores in North America and Europe. The app can be used to manage your Order Hall and view the currently active World Quests, assuming you've unlocked the feature. Be warned: Logging into the app while playing World of Warcraft will disconnect you from the game, so be careful not to do so while in a dungeon or raid. If you've locked your phone with the app running, you will be able to log into WoW again… but unlocking your phone will immediately disconnect you. When you're done with the app, close it completely.
It's also worth noting you may not want to enable push notifications on your device for this app. There appears to be a bug related to Order Hall research, where the app will continuously insist you've completed research which you haven't completed at all. For example, in the image at the top of this post, you can see my Heavenly Gate research is still in progress. In fact, the remaining duration is over two days. Regardless, the app tells me it's complete over and over again until I disable notifications.
Personally, I suspect this app will be of limited use until players have multiple alts at level 110, or in instances where a computer is completely inaccessible. A single level 110 character really doesn't have much to manage, but once a player has many alts and many Order Halls, managing all of them from the app will be much easier than doing so in-game.