Alarak brings sadism to Heroes of the Storm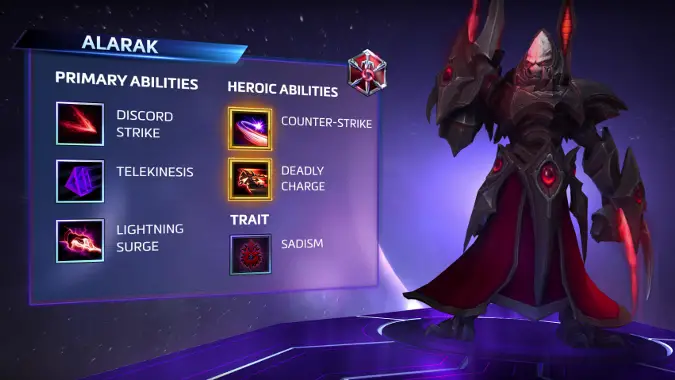 No, seriously, Alarak's Trait is called Sadism. Alarak, the latest assassin to join Heroes of the Storm, went live today with the first stage of the Machines of War event. As Sith Lord Highlord of the Tal'darim, Alarak is all kinds of nasty — and his gameplay expresses it quite well in the latest hero spotlight. His kit is all about punishing his opponents in varying, manipulative ways, whether it be pushing them around the battlefield, silencing them, or making them regret dogpiling him in a gank.
Unlike other heroes who get a talent which modifies their ultimate ability at level 20, Alarak has the option of choosing a second ultimate altogether, either gaining a total of two charges in one ultimate, or one of each to be unleashed at any time. Many of his other talents are built around accepting a weakness in exchange for great power. For example, his Sadism — which grants him a baseline 100% damage increase — might be reduced by certain choices, taking him down to only a 90% damage increase. In other words, some of his talents will reduce his damage output in exchange for some other advantage.
Players who have already gone hands-on with Alarak report he seems incredibly powerful; whether or not he's too powerful, time will tell. Most heroes seem over-the-top at launch (other than the total flops) simply because players haven't learned how to counter them yet.
Check out the Alarak spotlight below for full details.