Heroes of the Storm spotlights Zarya's gun show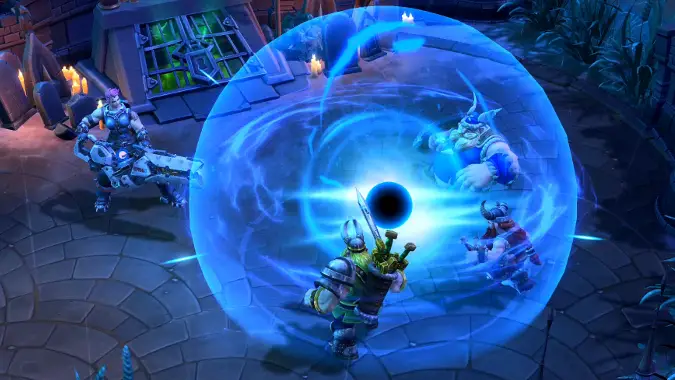 Zarya will be arriving in Heroes of the Storm tomorrow, which means it's time for a brand new hero spotlight exploring the game's first Ranged Warrior. No, Rexxar doesn't count. Everyone knows Misha is the Warrior and Rexxar is just along for the ride.
Overwatch players will immediately be familiar with her playstyle; Heroes of the Storm presents a faithful adaptation of the character. Her primary abilities are Personal Barrier, Shield Ally, and Particle Grenade. Any damage absorbed by her shields temporarily increases her Energy level, which translates to higher damage. Her first ultimate, Graviton Surge, will also be familiar to Overwatch players. Graviton Surge is an AOE effect which pulls all enemies toward its centerpoint for easy AOE ganking.
Zarya's second ultimate option will be a new element for Overwatch players, though. While Graviton Surge yanks your opponents in, Expulsion Zone pushes them away. Expulsion Zone can be used to cut off pursuers, create chokepoints, or block off a mercenary camp to prevent your enemies from taking it. Expulsion Zone also deals damage every time it pushes a player away — pinning your opponents up against a wall with it is bound to be a good time.
As always, Огонь по готовности!