Updated BlizzCon app lets you skip the shopping lines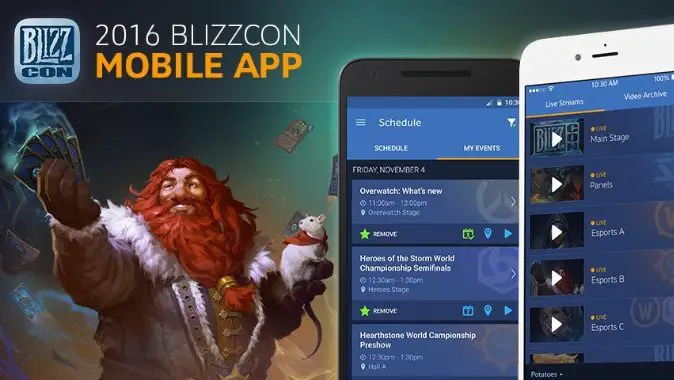 You can tell we're getting close to BlizzCon now: the official BlizzCon app for iPhone and Android has been updated for 2016. The app includes an up-to-date schedule, floor map, and a newsfeed with the latest updates so you don't miss anything. While you'll get a printed schedule and map with your BlizzCon goodie bag, you don't want to be the guy standing in the middle of the convention floor with a giant map unfolded in front of you. (It's almost as bad as being the guy holding up an iPad to take pictures. Don't do that either.)
But what we're looking forward to is the new Blink Shopping feature. This lets you place merch orders online before the con and then just waltz in to pick them up. The app will include what the current wait time is for both the Blink Shopping line and the regular merch line, so you can pick just the right time to jump in. (Our suggestion: during big panels, contests, or the closing ceremonies… if you can stand to miss them.) You'll also be able to see what's sold out without running down to the merch area to check.
As someone who's spent as long as three hours in the merch line, I'm hoping this doesn't mean we're all just waiting in the Blink Shopping line instead of the regular line, but we'll see at the convention.
You can download the updated app from your respective app store right now by searching for "blizzcon." It's a free app, so don't be tricked by any pay-for imitations!