WoW
Oct 26, 2016 12:53 pm CT
Latest WoW hotfixes fix weapon sheathing crash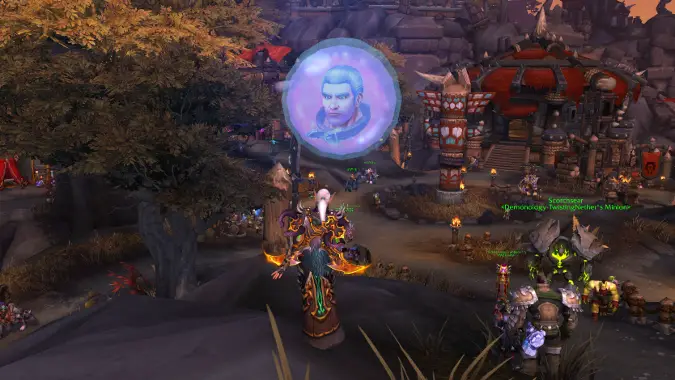 Hooray for hotfixes! The latest round features a pile of patch 7.1 bug fixes, including one that caused the game to crash when you sheathed your weapon. It may not be the strangest bug we've seen, but it's probably in the top ten. Another fix: Karazhan attunement items now drop in Mythic+ dungeons. That's definitely handy for those who are already totally done with Mythics.
Find the full list of hotfixes below.
Bonus Event
Completing a dungeon on any Mythic Keystone difficulty will now count towards progress on the weekly Bonus Event quest, "Emissary of War".
Classes
Druid
Luffa Wrappings should once again function correctly for non-Feral Druids.
Prowl should once again have the correct stealth effectiveness.
Mass Entanglement should now reliably chain to nearby targets.
Paladin
(Retribution) Fixed a bug preventing the Sword of Light passive from being fully calculated into baseline damage.
Shaman
(Restoration) Lava Burst should correctly deal a critical strike against targets with Flame Shock, at level 20 or higher.
Warrior
(Arms) Fixed a bug preventing the Seasoned Soldier passive from being fully calculated into baseline damage.
Dungeons and Raids
Quest Items related to Karazhan attunement now drop in Mythic Keystone dungeons in addition to Mythic difficulty dungeons.
Game Client
(Work in progress) Sheathing and unsheathing a weapon should no longer cause the game to crash.
PvP
Warden Towers temporarily rewarded 150 Honor. They have been convinced to once again reward 300 Honor.
Honor rewards from Tol Barad have been reduced by 50%.
Class Adjustments

Relentless reduces crowd control duration by 20% (was 25%).

Developers' Notes: We feel Relentless is over-represented in a lot of situations, so we're slightly reducing its effect.

Demon Hunter

Fixed a bug that was preventing Imprison modified by Detainment from being removed by Divine Shield and Ice Block.
Fury of the Illidari no longer causes reduced damage in PvP.

Mage

(Fire) Stamina reduced by 10% in PvP.
(Frost) Stamina reduced by 10% in PvP

Developers' Notes: Fire and Frost Mages have felt a bit too tanky.

(Frost) Deep Shatter increases the damage of Frostbolt by 150% (was 200%).

Monk

(Mistweaver) Surge of Mist now causes Enveloping Mist to incur an 8 second cooldown (was 6 seconds).

Developers' Notes: Mistweavers Monks have often relied on Soothing Mist to do most of their healing. Now, when choosing Surge of Mist, you may have to cast another healing spell during the Enveloping Mists cooldown.

(Mistweaver) Counteract magic increases the healing of Renewing Mist by 125% (was 150%).

Developers' Notes: Counteract Magic has felt a bit too strong against damage-over-time compositions.

Paladin

Avenging Crusader now properly increases the cooldown recovery rate of Judgment and Crusader Strike.
Avenging Crusader no longer increases the cooldown recovery rate of Tyr's Deliverance.

Priest

(Discipline) Searing Light increases the damage of Smite by 15%, down from 30%.

Developers' Notes: The Discipline Priest is intended to be an offensive healer, but we feel they were over-performing in 2v2 Arena.

Rogue

Agility reduced by 10% in PvP.
Stamina reduced by 5% in PvP.

Developers' Notes: Rogues are intended to be strong, yet vulnerable to focused-fire. We feel they have too much survivability while dealing too much damage with both utility and survivability, so we're toning them down.

(Assassination) System Shock duration reduced to 2 seconds (was 4 seconds).
(Subtlety) Stamina reduced by 5% in PvP.
(Assassination, Outlaw) Stamina reduced by 15% in PvP.

Shaman

(Enhancement) Agility reduced by 10%.

Warlock

(Demonology) Doom, Doubled now increases the damage of Doom by 33% in PvP situations.
(Demonology) Grimoire of Synergy increases the Warlock's and Pet's damage by 30% in PvP situations.
(Demonology) Implosion damage reduced by 20% in PvP situations.

Warrior

Bladestorm now deals full damage in PvP situations.

Developers' Notes: Bladestorm is intended to be a strong damage cooldown for the Arms Warrior. In Legion Beta testing, Arms Warriors felt too strong, so we reduced the damage Bladestorm did in PvP. We feel we're back to a place where returning it to full damage makes sense.

Execute now deals 15% more damage in PvP situations.

Developers' Notes: Execute is designed to be a signature strength of the Warrior, and should always be the right choice on targets within Execute range in PvP. We've found that there are some situations where that wasn't true, so we're increasing the damage of Execute to make it always the right choice.
Quests
Players should no longer fail to get credit for completing world boss World Quests.
Players with a full inventory should now be able to complete "Edict of the God-King" and accept "Unwanted Evidence" after defeating God-King Skovald in Halls of Valor.
The quest drops for "Uncovering Orders" should now come from the final boss in each of the three named dungeons, Assault on Violet Hold, Black Rook Hold, and Vault of the Wardens.
World
Bloodgazer Falcosaurs should now respawn more quickly.