BlizzCon 2016: Diablo 20th Anniversary panel liveblog
Click here for more photos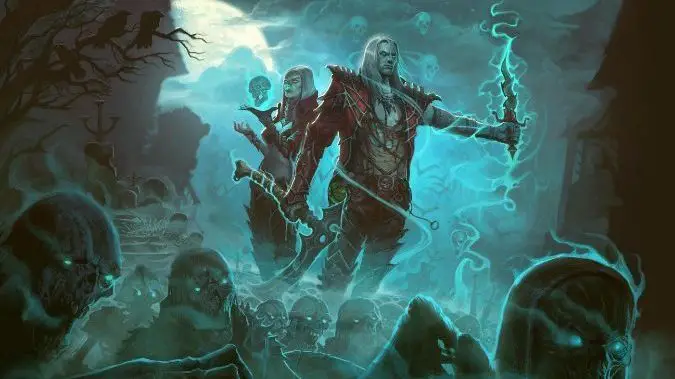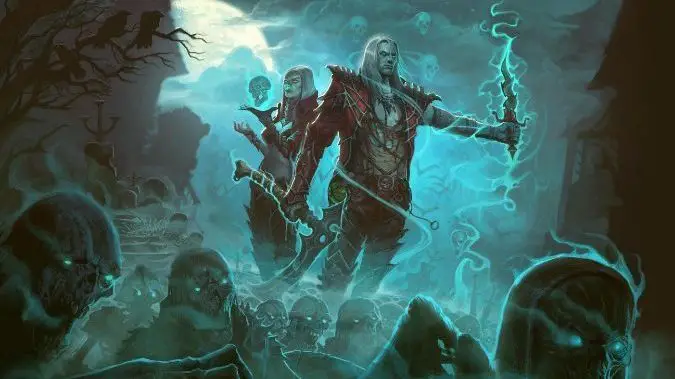 It's time to take a look back into the past — and towards the future — of Diablo. Let's check out what's happening in Diablo 3 to celebrate the anniversary.
Here's the summary:
The Darkening of Tristram event celebrating the 20th anniversary. Go back to old Tristram in retro-vision with 90s-style graphics and music, complete with the old-style resource UI. Coming in January.
The Armory, which will let you swap skills, passives, gear, and Kanai's Cube powers, all with a single click, coming in 2017.
The Necromancer, a ranged magic/pet class, with a gritty feel. Highlight: the Army of the Dead skill lets you summon a hundred skeletons and focus them on one target, coming in 2017.
Please be aware, depending on the pace of the panel, the liveblog will not include verbatim quotes unless otherwise noted. While we will strive for accuracy in the information presented, nothing should be cited as a direct quote from the developers.
5:07: On stage we have Kevin Martens, Wyatt Cheng, John Mueller, and Julian Love, and they'll be talking about the Darkening of Tristram, the Armory, and the new Necromancer class.
5:14: What would a 20th anniversary event be without an in-game party? Originally this started as a totally different thing, just adding classic music tracks. Now you're getting 16 dungeon levels plus a boss level.
5:15: We've taken out some of the animations to give characters a stilted look, the audio is tinny to replicate the 90s experience. It's in retro-vision. The combat is like Diablo 3 but with a 90s look. Use maps and monsters that match the retro look, and it has a classic Diablo UI.
5:17: When the Darkening of Tristram event happens, you'll find a portal and you'll head to old Tristram… where everything looks crappy. There are a lot of easter eggs, so look around.
5:18: Rewards: Portraits, banners, and pets! There's a baby Butcher (presumably from killing the Butcher).
5:19: Legendary gem and transmog! It's literally the gem the hero shoves into their head to contain Diablo.  There's now also a new Writ's leg… and you can dual wield the classic leg and the new leg!
5:20: Monster art, like the Butcher, has been redone to look more like the original. It will all be going live in January!
5:21: What's the Armory? This will save your items and skills so you can one-click swap armor and builds. You'll be able to save five loadouts per character: skills, passives, items, Kanai's Cube powers. Name sets how you want and it's a single button to swap.
5:23: Doesn't reassign Paragon Points so you don't have to reassign them. Gems no longer have an unsocketing cost so they'll be easy to swap around and the Armory will automagically grab your top-level gems when you switch sets.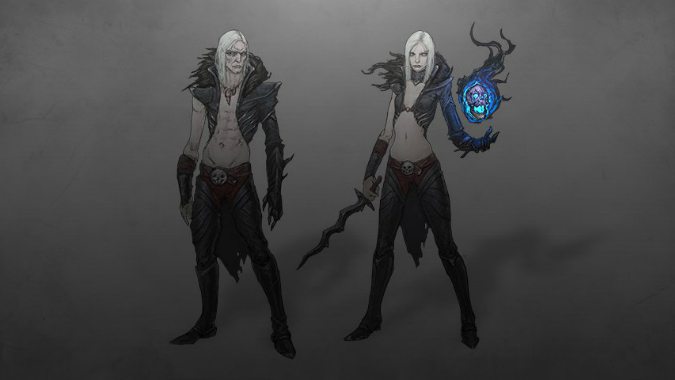 5:26: It's time for the Necromancer!
5:27: When we recreated the Necromancer, we had to ask just what the Necromancer was — and it's years of player experience. We brainstormed different art styles for the character: the Necromancer as king of the dead, as a crypt-keeper, as taking trophies from the dead. Wound up with the Necromancer as a commander of the dead — it's a rockstar with an entourage of the dead.
5:32: What is a Necromancer?
A pet/ranged magic class with a dark theme
Darkest class ever, leading an army of the dead — dead things and almost dead things
Magic involves blood, bone, and reanimation
Curses
5:34: Pet and ranged magic class… isn't that the Witch Doctor? How are they different? It's about theme. Witch Doctors are dark, but they're also kind of light-hearted. The Necromancer has a darker, grittier take on the undead vibe. It's a class that's deadly serious; not a lot of humor. If you were thinking of swinging by the necropolis after work, happy hour is not a thing.
5:35: Witch Doctor pets are entirely passive. They run off and do their thing. Necromancer pets are "active/passive."  You get a passive benefit from each pet, but when you activate it you get an active ability. For example:
Command Skeletons: You get an army of 10 skeletons. But activate the skill to get them to focus on a target and increase their damage. This makes them a very effective single-target takedown skill.
5:37: The Necromancer has two resources: essence (which doesn't regenerate in time) and corpses (which you generate by killing monsters). When a monster dies by any means (whether you kill it or someone else does), there's going to be a little bit of extra corpse material left behind that only the Necromancer can see — and they use them to power their skills. Some skill examples:
Corpse Explosion, which works exactly as you'd expect, turning corpses into a big red explosion. Blow up as many as 10 corpses at once.
Bone Spear: Works exactly like it did in Diablo 2. It's a piercing projectile, powered by Essence.
Decrepify: Our first curse. Curse a broad area and reduces movement speed and damage.
Siphon Blood: a single-target channel spell that lets you recover both life and Essence from your enemies.
Blood Rush: Necromancers throw off their skin and other stuff and throw their blood forward… yuck. Works similar to Wizard's teleport.
Blood Golem: Golems are back as Necromancer pets!
Army of the Dead: A hundred plus skeletons obeying your command and attacking an area. You're a real commander of the dead.
5:45: The Rise of the Necromancer Pack adds two character slots, two stash tabs, cosmetic goodies, and it will all be coming next year, "second half-ish."
5:46: Seasons are coming to consoles! We'll hear more about this and other new features in the Diablo panels tomorrow.
That's all for this panel, but we're sure to hear more about what's coming to Diablo tomorrow… even though it sounds like we're waiting until 2017 to see most of it.