WoW
Dec 2, 2016 1:54 pm CT
Mischief Make-A-Wish pet and plush now available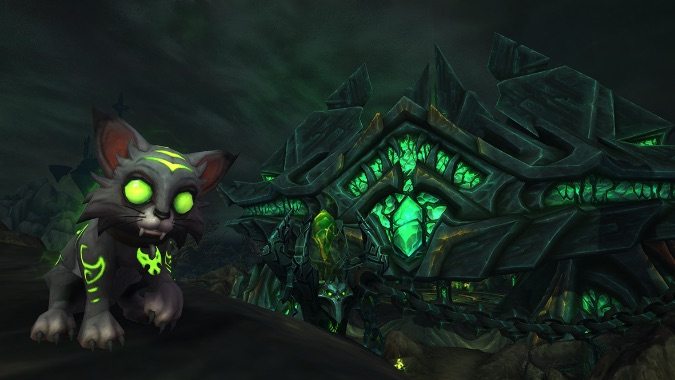 Even if you don't like to spend real cash on pixels, it's hard not to see the appeal of Blizzard's charity pets, which have raised millions for Make-A-Wish and the American Red Cross. The latest charity pet is Mischief, a fel kitten described thusly:
A curious kitten that followed the Legion into our world during the most recent invasion. Much more interested in playing with Azeroth's many rats than in the annihilation of all life.
Like the rest of Blizzard's for-purchase battle pets, Mischief costs $10, and if you buy him before December 31, 100% goes to Make-A-Wish. In-game, Mischief is a beast-type battle pet, but has a mix of beast, magic, elemental, and critter skills: Bite, Fel Immolate, Forboding Curse, Pounce, Crouch, and Chaos Nova.
But in addition to the in-game pet, you can also pick up Mischief as a plushie that glows in the dark. I'm pretty sure that makes it the coolest plushie ever, but at $25 it's pricier than the virtual version. If you pick the plushie, $14 goes to Make-A-Wish (again, if you buy before December 31).
So grab yourself (or someone else!) a gift and help a great charity. It's really a win/win.