Do you watch esports?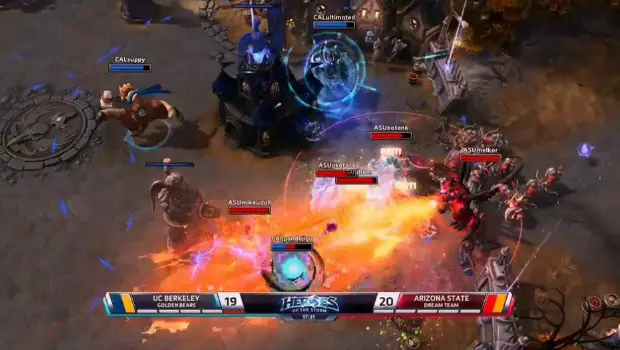 I'm not a serious enough Heroes of the Storm player to understand what's going on when I watch Heroes esports matches. But somehow I find them interesting anyway… and I can't quite put my finger on why.
Just like watching sports, there's certainly some joy in watching skilled people shine, but I really don't watch sports. But I do, sometimes, watch esports. Maybe it's the commenters, who can make a game understandable and interesting even when you don't follow all of the nuances. Maybe there's some cool factor to seeing gaming, something I've enjoyed since I was a kid, elevated to the pro sports level. There's an element of spectacle to an esports match that's different than just playing the game yourself. And if you're in the crowd watching a match at BlizzCon, there's an energy in the air that's just not there in your everyday gaming session.
But I don't watch WoW or Hearthstone, both of which I'd understand better. If I'm watching esports, I'm usually watching Heroes. But why do I watch when I could just alt-tab into the game myself? Isn't playing more fun than watching someone else? Maybe the fact that I'm a lousy Heroes player is what makes Heroes fun to watch. I'd rather watch than play, because I've never invested the time to get very good at Heroes. Watching top teams is more fun than heading into the Nexus and losing a lot.
But what about you, readers? Do you follow esports at all? And if so, why?