The Queue: A Cretaceous Christmas Carol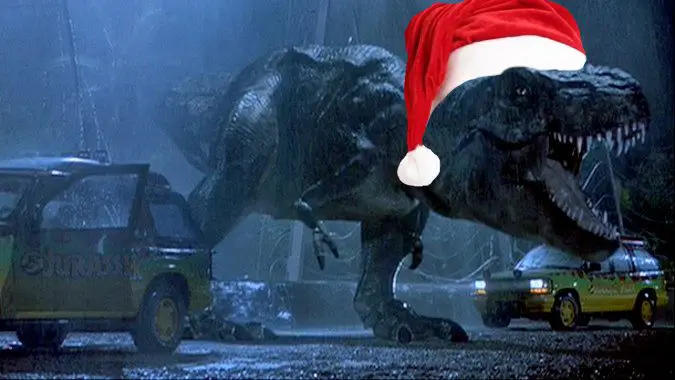 Greetings.
I'm Santa Rex, and I'm here to bring you some Cretaceous cheer for the holiday season. I was forced to devour the usual host of the Queue, because he stood in the way of my holly jolly rampage.
You don't want to stand in the way of my holly jolly rampage.
So come! Let us celebrate the season of peace on Earth and goodwill for all, even you small synapsids. Did you leave cookies out for me? Or perhaps a Centrosaurus? Or both?
Ho ho ho, Merry Cretaceous Christmas!
Awful crunching sounds commence as Santa Rex tucks into his plate of stacked Centrosaurus and swimming pool full of milk.
---
LAVINDAR
Important discussion to have:
Is a Hot Dog a Sandwich?
Lavindar, I'm a fusion of a seasonal manifestatiuon of merriment and mirth and a 9 ton killing machine. As far as I'm concerned, you're a sandwich. Anything you eat is just a sandwich inside a sandwich.
I see you when you're sleeping, I know when you're awake.
---
PEPE STORMSTOUT
That Jurassic Mitch gif is beautiful.
Thank you! I'm always afraid the camera makes my arms look small. Do my arms look small to you? I'm very sensitive about my arms.
Anyway, I was just in such a hurry to bring you all Season's Greetings and eat that fellow.
---
RIK OSBORNE
So my paladin is questing in Azuna now and … is it just me, or are a lot of the named, non-elite quest mobs more difficult and tedious to kill than the rare spawns?
Not for a friendly Christmas dinosaur they aren't!
But seriously, yes, they are. I believe that's on purpose to keep them more challenging and make grouping feel rewarding. Could be a scaling issue as well.
---
TKC
Q4tQ: who agrees that Suramar can't be burnt to the ground soon enough?
One of my cousins lives in Suramar. Loves the place. Won't stop raving about it. Apparently if he breaks free and goes on a rampage they barely even notice.
Before I ate him the person who was scheduled to write this Queue wanted to answer your question with something boring about how much he loves the zone's aesthetic but hates the sheer volume of guards with the 'An illusion! What are you hiding?" emote and always getting kicked out of his disguise. Sadly, since I ate him, I suspect that's the least of his problems now.
---
MISTAH JAY
Q4tQ: Since "All flying mounts are now able to be used as a ground mount in areas that do not allow flying." from Warlords, why can't they be used to "fly" over water similar to how Water Striders can go over water?
My penguin elves assure me that they can't do this because the union won't allow it.
---
YOOJINE
Tired of Old Gods. Hate how they end up being responsible for everything bad that happens in WoW. Arthas went evil after blurring the lines between good and bad in the pursuit of what he thought was right- that's sympathetic. Arthas went evil because someone was whispering nonsense in his ear… how am I supposed to relate to that? Never understood eldritch fanboys either. Woo so grimdark and exciting. Woo they type by rolling their face on the keyboard- that's how I've been DPSing since Wrath but you don't hear me bragging about
Have no fear, my friend. For as a Christmas dinosaur, I can speak with the Dakotaraptor of Christmas Past, the Diplodicus of Christmas Present, and the Coelophysis of Christmas Future. And all three assure me that the next World of Warcraft expansion is called Thunder Lizards Reign, and it's all about us dinosaurs. No Old Gods, no Legion, nothing but dinosaurs.
Even your characters will turn into dinosaurs.
It's going to be fantastic. I can't wait to see a 20 player raid with Prot Triceratops and Holy Pachycephalosaurs raiding Skull Island. And the bosses! Finally, Sargeras in his true form as a Giganotosaurus!
---
HUSSKIES
Q4TQ: If you could bring one character from WoW to your Christmas Eve family dinner, who would it be and why?
I'd bring Anduin, just because.
My cousins Thok and Oondasta. I miss those guys.
---
DAVE HENSON
Q4tQ: Are there any moments in WoW that made you tear up or cry, IRL? Watching Varian sacrifice himself brought me chills like I haven't had in a long while. And the Vale desecration brought tears of such anger that I can't even express the emotion properly. Anyone else?
The first time I saw King Mosh run over a Hunter on the Rhok questline in Un'Goro, I knew I wanted to bring that kind of joy to the world. That's why I became a Christmas dinosaur. Still brings tears to my eyes.
Okay. I must be away now – I have many houses to visit, many things to eat, and many a caroling roar to bring cheer and seasonal fun to as many as possible before I trample them with my massive feet and crush their fragile bones with my massive, serrated teeth.
Happy Holidays!