Celebrate the Opening of Ahn'Qiraj with the Call of the Scarab micro-holiday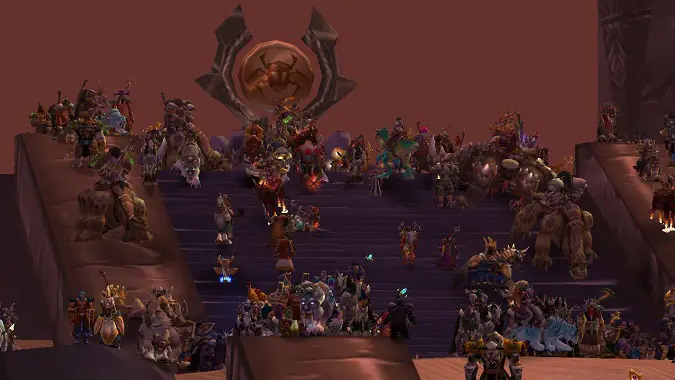 Were you there? I was.
This Saturday, a special micro-holiday, Call of the Scarab, will call back to the original Gates of Ahn'Qiraj back in 2006. (Side note, I am old.) The AQ event was unique in its level of inter-faction cooperation, a high water mark that sadly we've retreated pretty far from in the modern game. Eleven years ago, Horde and Alliance players gathered resources in their capital cities and brought them to both their own faction and their opposite number. I still remember the Horde ambassador sitting on a mount in the middle of Ironforge, it was something you'd never thought you'd see.
The battle in Silithus was also something to witness. Whole servers worth of level 60s (at the time the highest a player could get) turned out to battle the Silithid and gather their broken body parts. I still have my Agent of Nozdormu item, which was a big part of the process back then. Some servers like mine had something like a dozen guilds fully present in Silithus, squabbling over Carapace fragments, while others were spending hours gathering up as many bandages as possible. It was an event the likes of which it would be difficult to imagine today, with smaller raid sizes and a broader spectrum of play.
And now here we are, eleven years later, looking back at how much everything's changed. Cross-faction cooperation is almost a thing of memory, and the Silithid menace has been replaced by a full scale Legion invasion. The one thing that hasn't changed is we beat the bugs, and we'll beat the demons, too. So take the next few days and celebrate when Azeroth put factions aside and stood together.