WoW
Feb 8, 2017 2:15 pm CT
Love Fools properly pitiable in latest WoW hotfixes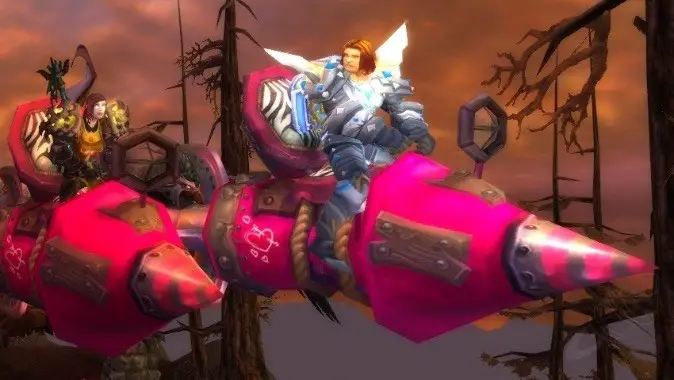 The latest round of Legion hotfixes are here, right in time for WoW's latest holiday. Players who were attempting to complete the achievement I Pitied The Fool may have found themselves unable to do so — the Love Fool wasn't able to be used in battlegrounds. That situation has been hotfixed, so the achievement (and the associated holiday meta) can once more be completed. In addition, a few adjustments have been made to Mythic difficulty Nighthold encounters — both Spellblade Aluriel and Star Augur Etraeus have had their damage adjusted. And if you were looking to delete your Legendary items … well, you can't anymore. Read on for the full list of hotfixes and developer's notes.
February 7
Dungeons and Raids
The Nighthold

Spellblade Aluriel

(Mythic difficulty) Lowered the damage done by Mark of Frost by 20%.
(Mythic difficulty) Lowered the damage done by Detonate: Arcane Orb by 10%.

Star Augur Etraeus

(Mythic difficulty) Increased the initial damage inflicted by Icy and Fel Ejection by roughly 40%, and their periodic damage by 100%.
(Mythic difficulty) Reduced the health of Star Augur Etraeus by 5%, and the health of Things That Should Not Be by 45%.

Developers' Note: These changes are aimed at shifting some of the role-specific requirements of the encounter away from damage output in favor of healing, while slightly reducing the overall difficulty of the encounter on Mythic difficulty.
Holiday
Players should be able to place Love Fools in battlegrounds, as intended.
Items
Legion Legendary items can no longer be destroyed.

Developers' notes: There was a rumor that deleting a Legendary item would increase your chances of receiving a different one. It's completely false.
Priest

Unequipping the Blessed Dawnlight Medallion now resets your Insanity to 0.
Binding Heal will now properly reduce the cooldown of Holy Word: Serenity while Al'maiesh, the Cord of Hope is equipped.
Player versus Player
Warlock

Entrenched in Flame will now properly function with Shadowburn.