News
Feb 9, 2017 2:30 pm CT
Battle.net launcher beta adds Facebook friends integration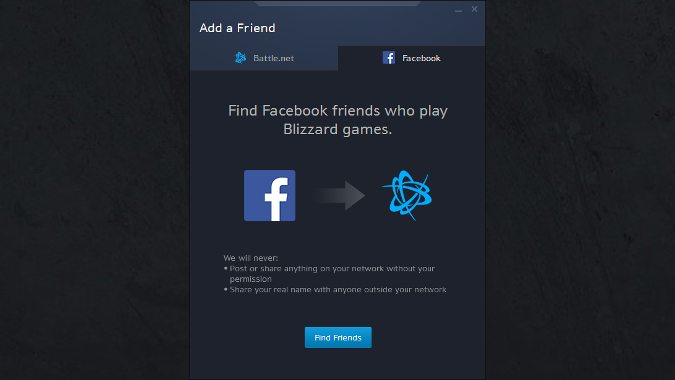 The Battle.net beta launcher received a new update which improves upon its Facebook integration. Linking Battle.net and Facebook accounts is now performed through Battle.net account management and will now recommend friends (and friends of friends) who also play Blizzard games. Players who have previously streamed games to Facebook will need to re-connect their account through the new method.
While I'm glad these features exist for those who will use them, I'm going to continue keeping my distance from Facebook. I already found it marginally disturbing Battle.net's Friend of Friend feature would supply me with the full first and last names of people I didn't even know. Mining Facebook for even further data on that front? Count me out.
You can check out the full patch notes below.
Originally Posted by Blizzard Entertainment
Improvements
Suggested Friends
Suggested Friends will provide users with new and easy ways to make new friends on Battle.net:

Facebook Friend Finder will allow users who have linked their Facebook account with their Battle.net account to find and add them as Battle.net friends.
Mutual Friends (Friends of Friends) will also be displayed in the new Suggested Friends section.
Recently Played With players will be gathered from recent games you have played with people that aren't currently your friends.

Currently only Diablo is supported at this time, but we plan to expand this to other games in the future!
Friends List Improvements
We are adding new options for how your friends are displayed and grouped on the Friends List:

All friends currently playing a game can be toggled to appear at the top of the Friends List and will be grouped alphabetically, by game title.
You can choose to show both BattleTag and Real ID for your friends.
You can now ungroup your favorite friends. Ungrouped favorite friends will be displayed with a star next to their name.
Facebook Streaming Improvements
We have changed the way in which Facebook accounts are linked to Battle.net accounts. Linking now goes through Battle.net Account Management.
This will allow you to automatically enable Facebook Streaming and Facebook Friend Finder for linked accounts from anywhere you log into the Battle.net Desktop App.
Note: Users that have previously used Facebook Streaming will need to link their Facebook account to their Battle.net account in order to stream again. Click on the Streaming icon to begin the linking flow.
Bug Fixes
Fixed an issue causing category names to not be properly localized in the region selection.
Fixed and issue causing key binding to be lost when restarting the Battle.net Desktop App if using a mouse button for Push-to-talk.