News
Mar 2, 2017 12:00 pm CT
Blizzard esports head to IEM Katowice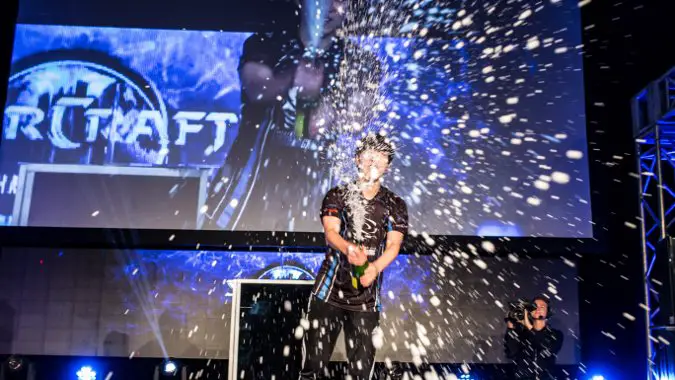 This week, Blizzard esports are all about Katowice, Poland. From tasty food to other tasty food, it's easy to get jealous. While we can't enjoy delicious pierogis like the esports glitterati, we can still kick back and watch the action from Intel Extreme Masters without putting on pants. Everyone wins!
Here you go @MellinaKong @GFE_Khroen pic.twitter.com/ELJP9Y6UdF

— Dylan Walker @ IEM (@Dyluuxx) March 2, 2017
Heroes of the Storm
The HGC Western Clash is about to begin this week in Katowice. The first match pits the top seed from Europe, Misfits, against Nomia from ANZ. Misfits seem poised to win it all, but this is the first time EU and NA have faced off this season. The second match, featuring surprise number one seed from NA Team 8 against EU's Dignitas, should give a better window on what we can expect to see this weekend.
There's an ongoing promotion to win some cool HGC swag and Lucio bundles. Only 23 more days to enter!
Got a new backpack for the trip to IEM! They said I could get my initials put on but instead… pic.twitter.com/8XyE9bfSjO

— Nick Plott (@CallMeTasteless) February 24, 2017
StarCraft
The action out of Katowice has already been electric. Each group in the round of 24 was stacked with the best talent from around the world. Group A included BlizzCon champion ByuN. Group B continues today, with lots of Terran versus Protoss action. Groups C and D play out tomorrow, with the finals beginning bright and early on Saturday.
HELLO?? @A_Seagull pic.twitter.com/WqFuwL4xrE

— Jared Gitlin (@FaZeZombs) February 28, 2017
Overwatch
In semi-pro news, the fourth competitive season is underway, with the typical player portrait and gun rewards up for grabs. It was strongly hinted ladder performance may earn players an invite to the combines when the Overwatch League — finally — gets underway, so make sure you know how to counter new Bastion before you queue up.
MFW the director of this new video we're filming asks if I can wear a flannel on Monday pic.twitter.com/DqhhvOotkE

— Ben Brode (@bdbrode) February 24, 2017
Hearthstone
Most of the discussion in the esports community this week centers around Journey to Un'Goro, the upcoming Hearthstone expansion. This also ties in neatly with discussion about the elimination of old card sets from standard decks — and therefore, the pro meta.
Also noted in the pro meta is Ben Brode's incredible rap, which may contend with aggro Shaman for the top slot.