Patch 7.2 PTR removes secondary traits from Relics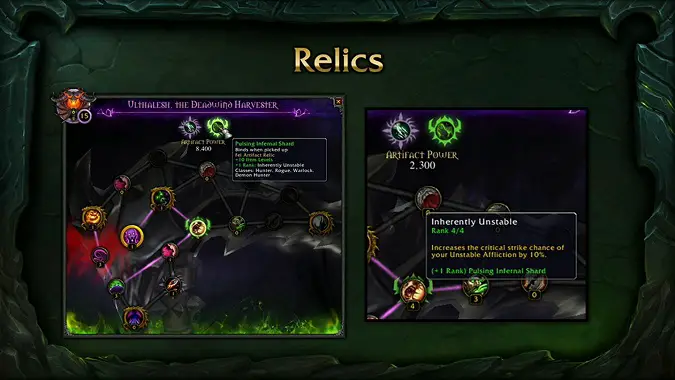 The patch 7.2 PTR introduced two new tiers of Order Hall research. The final tier, costing 30,000 Order Hall Resources, allowed Relics to add ranks to two different Artifact traits. After testing and player feedback, the developers have decided to shelve the idea.
In the next PTR build, you'll see that we've replaced the final Order Hall research (which caused relics to gain a second trait at random) with one that grants a chance for Artifact Power rewards from World Quests to be doubled.
We're doing this for a few reasons, the largest of which being that we simply weren't satisfied with the current state of the system. There were several rough edges, including a few which were pointed out by your feedback. While these issues could be solved, we weren't confident we could do so in a way that meets our standards in time for 7.2, so we'd rather shelve the idea for now.
That said, we definitely feel that there's more that can be done with relics, and are discussing some possible ideas for a future Legion update. We don't have anything to share just yet, but it's something we're thinking about. Thanks again for all the feedback on this topic!
All Artifact traits are equal, but some are more equal than others. Getting extra ranks in your best DPS increasing traits would be exciting. Getting extra ranks in your utility traits would be disappointing. Legendary items already have a strong affect on character power based upon getting the "right" ones. Adding a second trait to Relics would have created a similar issue.
The new research perk granting a chance at doubling Artifact Power from World Quests may help ease some concerns about the astonishing amount of Artifact Power needed for the Paragon traits. That said, making it a proc may prove frustrating for players and depending on the proc chance, it could end up being a dubious use of so many Order Hall Resources.