WoW
Apr 3, 2017 1:00 pm CT
Nethershard farming has gotten harder in latest hotfixes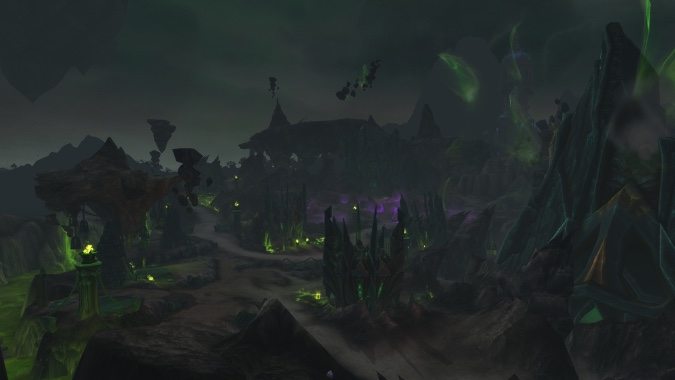 There's no hiding it: as we've stumbled through the Timeless Isles Tanaan Jungle the Broken Shore we've stumbled into more than a few bugs. The latest hotfixes squash a few more Broken Shore problems and continue to address class issues Blizzard has had trouble with. But the big news here is Nethershards. Over the weekend you may have noticed that the drop rates have changed, meaning some of the easier ways to get Nethershards have vanished.
The goal is to avoid what Ornyx calls a "Timeless Isle frogs" situation, where mindless grinding is the very best way to get Nethershards. That means lower difficulty stuff no longer drop Nethershards at all, rares drop more Nethershards, and both Sentinax objectives and mobs grant more. If this put a crimp on your Nethershard farming, don't worry, because Legion Assaults, coming on Tuesday, will offer plenty of shards.
Everything, from classes to Nethershards, is in the full hotfix notes below.
Brawlers Guild
The Stranglethorn Streak Brawl is unavailable.
Broken Shore
The message sent when a Sentinax boss appears should now play a loud warning sound.
The Sentinax should now send a message when it has finished recharging and is ready to respond to beacons again.
Rare elite enemies now drop significantly more Nethershards.
Creatures summoned below the Sentinax now drop significantly more Nethershards.
A number of unintended sources of Nethershards no longer drop Nethershards.
Classes
Demon Hunter

Fiery Brand should now be applied to the correct target when cast using an @focus macro.

Druid

Glyph of Twilight Bloom and Autumnal Bloom should again modify your Lifebloom spell.
Stellar Empowerment no longer buffs the initial damage of Moonfire and Sunfire.
Wax and Wane now increases the damage of your next Moonfire by 25% per stack (was 15%).

Hunter

Echo of Ohn'ara's proc chance increased to 20% (was 10%).
Talon Bonds can proc Mastery: Hunting Companion.

Paladin

Blessed Stalwart now increases Shield of the Righteous's effects by 8% (was 25%).

Priest

Fixed a bug that caused Cosmic Ripple to incorrectly cost mana.
Dungeons and Raids
Corrected an issue that was preventing the Ahead of the Curve and Cutting Edge achievements for Gul'dan from being properly awarded.
Artifact Power rewards will now correctly scale for Mythic Keystone levels 11 through 14.
Player Versus Player
Dampening now starts at a 20% healing reduction in 2v2 matches.
Combatant's gear now starts at item level 840 and goes up to item level 860 (before Warforging), based on your character's average item level.
Druid

Overrun's range has returned to a minimum of 8 yards and maximum of 25 yards.

Hunter

Trueshot aura will continue to countdown correctly when the Hunter is under the effect of Cyclone.

Paladin

Flash of Light now heals for 35% more in PvP situations.
Holy Light now heals for 50% more in PvP situations.
Light's Grace now increases the healing of Holy Light by 50% (was 100%).

Priest

Holy Ward will now cause the target to be immune to Scatter Shot.

Shaman

Ethereal Form can now be cast in Arenas and Battlegrounds.
Restoration PvP Template Mastery has been increased by 10%.
Quests
Eyir has returned from a critically important meeting with Odyn and is once again available in her vault for the worthy.