New WoW short story Dark Mirror provides insight into Nathanos and Sylvanas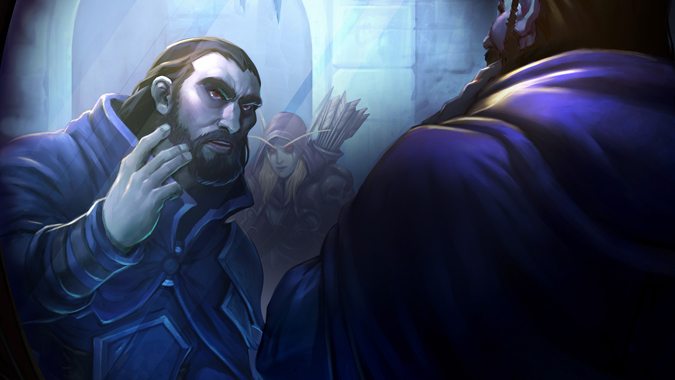 A new World of Warcraft short story has just been released, featuring everyone's favorite Dark Lady and her steadfast loyal Champion. In Dark Mirror, Nathanos Blightcaller recounts memories of his life before and after the Scourge invasion, and memories of Ranger-General Sylvanas Windrunner, while awaiting a mysterious Val'kyr ritual to make him stronger at the now-Banshee Queen's behest. The story is set during the initial Legion invasions on Azeroth, before the failed Broken Shore assault and our own landing in the Broken Isles.
Written by Game Designer Steve Danuser, Dark Mirror gives us an unheard of look into Sylvanas' personal relationships and feelings as well as a glimpse into Nathanos' own life. Their snarky comments were positively delightful during the demon invasion at Vol'jin's funeral in the Legion pre-patch, leading many to suspect there was more to their relationship. It's interesting to see Sylvanas remain so dedicated to someone, especially after her sister's rejection and subsequent heartbreak on Sylvanas' part in War Crimes, though the fact that Nathanos is undead and Vereesa rejected undeath may have a lot to do with it.
We can also glean a few other things from Nathanos' memories, including his role as a Ranger-Lord and a surprisingly free-spirited and willful Ranger-General Sylvanas. Whether or not you're a fan of the Forsaken, this short story gives fascinating insight into the Dark Lady's heart. You can read Dark Mirror on Blizzard's story site or download the story in PDF to read at any time.