WoW
Apr 20, 2017 9:00 am CT
Latest WoW hotfixes address Tank Artifact Challenge and more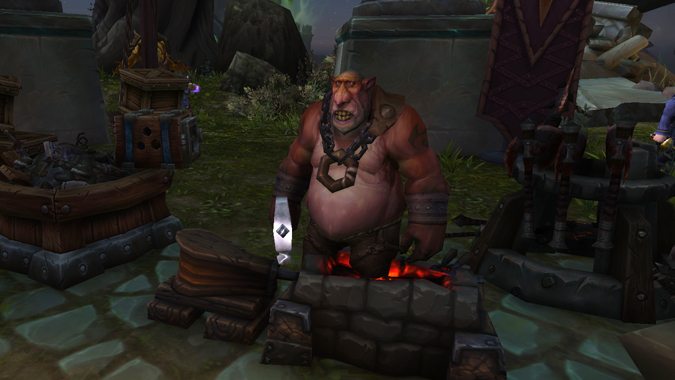 A new round of Legion hotfixes have been released, and while the list is short, it contains some pretty important changes. Tanks that are trying to finish their Artifact Challenge should find the experience a little easier to accomplish after a series of gentle nerfs and buffs to various mobs in the encounter. Several changes have also been made to the Broken Shore — the Ashtongue Felsmith seems to have come to his senses, and is no longer standing in his forge. Sadly, it appears that the Uncrowned Blacksmith pictured above has not received this very important memo — either that, or he's just got something to prove.
Read on for the full list of hotfixes.
April 19
Artifact Challenge
The difficulty of the Tank Artifact Challenge at the Mage Tower has been adjusted:

Highlord Kruul's health reduced by 10%.
Inquisitor Variss health reduced by 10%.
Kor'vas Bloodthorn's health increased by 100%.
Nether Horror health reduced by 20%.
Tormenting Eye health reduced by 20%.
Smoldering Infernals are now summoned less frequently.
Broken Shore
When you first activate a portal of any given type with a beacon, it will now last 10 seconds longer.
The chance to loot Portal-Stones that can be used to call down powerful Lieutenants has been doubled.
The Warden Initiate has received additional training, and can now fly alongside you. She has also learned to use her abilities more frequently and in a smaller area of effect.
Players can now vendor excess Sentinax beacons that they don't wish to hold on to.
The Ashtongue Felsmith has become aware of his burning region, and is no longer standing in his forge at Deliverance Point.
Classes
Hunter
Fixed a bug that occasionally kept Gon from spawning as expected.
Items
Fixed a bug that prevented Rethu's Incessant Courage from counting certain hostile creatures as valid targets.
World
The flight path between Algen Point (Broken Shore) and Hafr Fjall (Stormheim) has been adjusted to follow a better route.