WoW
Apr 28, 2017 10:00 am CT
Group Finder addon hotfix breaks familiar addons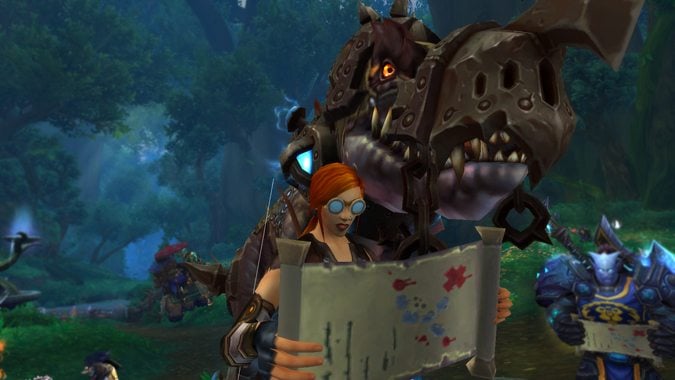 In an effort to combat issues with realm performance and latency, Blizzard has changed the way addons interact with the Group Finder feature in a recent hotfix. Apparently, the automation behind creating and joining groups was responsible for many of these issues — even if a player wasn't using the addon in question. So what does that mean? Essentially, if you've been using an addon to facilitate automatic grouping in game, you may find it broken upon logging in today. This includes the overwhelmingly popular addon World Quest Group Finder — and according to the addon author on Reddit, the addon will unfortunately not be making a return.
Needless to say, there are a lot of players upset with this change. Personally, I've never used World Quest Group Finder myself — but I have experienced a stunning amount of lag and latency, particularly after players began unlocking flight on the Broken Shore. Upon logging in today, that latency has all but evaporated.
On the one hand, this has me appreciating the change in question. On the other, there are so many players that have been happily using this addon and others for so long that the sudden removal of its utility is understandably upsetting — and I have a sneaking suspicion it's going to be a lot more difficult to find groups for many world quests now that it's gone. Even if I wasn't actually using the addon myself, its presence meant that it was ridiculously easy to find a group no matter what I was doing.
Whether or not Blizzard takes another look at the issues, or perhaps incorporates some of the admittedly handy functions of World Quest Group Finder into the default UI remains to be seen. For now it's simply broken, leaving a lot of upset players in its wake. Read on for the full blue post below.
Since the release of Patch 7.2, we've been working to resolve issues with realm performance that were causing players to experience heavy latency and/or disconnects on the Broken Isles. As our investigation has continued, we've discovered that many of these issues were being inadvertently caused by addons intended to automate the creation and joining of groups via the Group Finder, even for players who were not using those addons.
Today, we've changed what addons can do when interacting with Group Finder, in order to address major performance issues with the game service for players— not just for those using these addons, but for others as well.
In order to alleviate those issues, we've recently applied a hotfix that changes how addons interact with the Group Finder. Players will now need to give a manual confirmation when an addon attempts to:
– List and delist a Group Finder group.
– Search for and request an invite to a Group Finder group.
Addons that are affected by these changes will need to be updated to comply with this new restriction. We understand that this is a relatively sudden change, but it was important to resolve the performance issues as quickly as possible.
Note: If you are not using an addon that modifies the Group Finder feature, you should not encounter any issues resulting from this change.