WoW
May 2, 2017 5:00 pm CT
Warsong Scramble now live on North American realms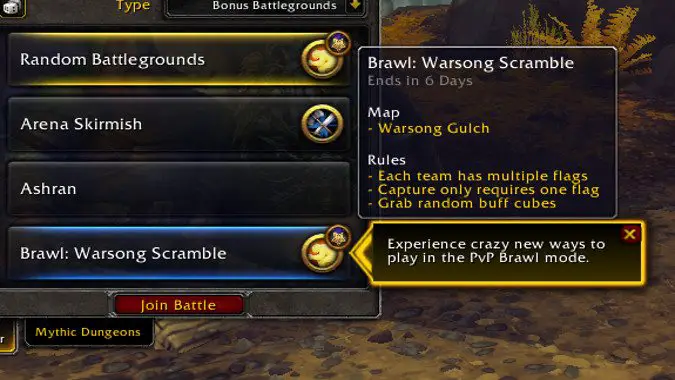 Have you ever wanted to see what it would be like if you didn't need to have your own flag in your base to capture the enemy flag in Warsong Gulch? Well, the PVP devs have finally given you what you wanted with Warsong Scramble, a new PVP brawl for World of Warcraft that changes the rules.
https://twitter.com/holinka/status/859458300173209600
You can sign up to play on the PVP pane, under Brawl: Warsong Scramble. Typically, you can only capture the enemy's flag if yours is safely at home base. In this brawl, that's not the case. In addition, there are even more on-field power ups (like the Berserker buff) that will give you an edge in Scramble's faster paced version of Warsong Gulch. Defense is a lot less important than a hard hitting offense, although it's possible to engage in a kind of offensive defense where your team does its best to kill anyone who picks up a flag as soon as possible. (Based on how many times I got killed running, it's quite possible.)
If you're an old hand at WSG, the new format changes things up and frankly, makes it both more interesting and at times more frustrating. I only managed to play one round (we lost) so I can't claim to know all the specifics, but it's definitely a lot more frantic. If you're familiar with the old WSG, definitely give this one a try, it makes it a whole new experience in many ways.