Battleground rotations are coming to Heroes of the Storm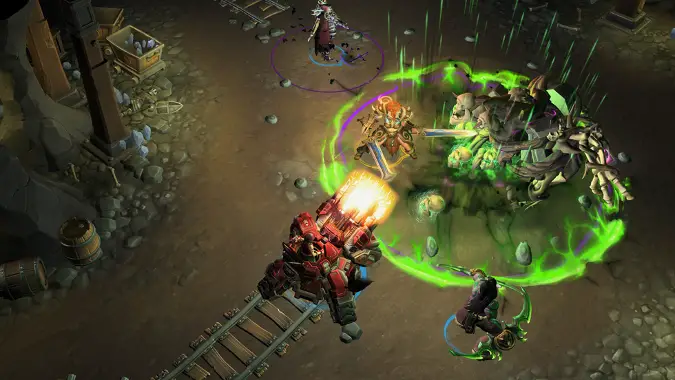 Are the 13 Battlegrounds in Heroes of the Storm too many? Blizzard seems to think so. Starting with the next patch, the game will have a Battleground rotation, limiting the number of Battlegrounds available for play. Here's how it will work:
Each rotation includes nine Battlegrounds, chosen to offer good gameplay variety.
The available Battlegrounds will rotate three times per season, so we should see a new lineup about once a month.
So why the change? According to Lead Battleground Designer John Deshazar, Blizzard doesn't want to overwhelm players with too many maps.
We've heard some players express concern with feeling overwhelmed by the growing number of Battlegrounds. Asking players to manage 13 unique event timings, strategies to defeat large monsters with varied abilities, or memorizing the optimal path to collect doubloons can feel like quite a lot.
When Heroes first launched, it only had a handful of Battlegrounds. We began to debate the possibility of a rotation in earnest about the time the map pool reached double its original size. Longtime players may have noticed that whenever we've introduced a new Battleground, we've reduced the size of the map pool to funnel more players into the Nexus's latest challenge. With the launch of D.Va, we decided it was time to formalize our approach to keeping the game fresh without overloading players by introducing regular Battleground rotations.
Reducing the number of available Battlegrounds by four may not seem like much, but as the game continues to grow, this may start to feel like a real restriction — and not everyone's happy with it. After all, the range of great maps is one of the things that makes Heroes fun, and when your favorite map is off rotation… well, you can see how that could make the game a little less exciting. Still, nine maps is what we're getting, starting with:
Cursed Hollow
Sky Temple
Braxis Holdout
Hanamura
Battlefield of Eternity
Warhead Junction
Haunted Mines
Tomb of the Spider Queen
Infernal Shrines
For those unhappy with the new rotation system, Deshazar notes that nine should be considered a "living number" – Blizzard will be monitoring things and it could change.