Horizon Lunar Colony update hints at new Overwatch lore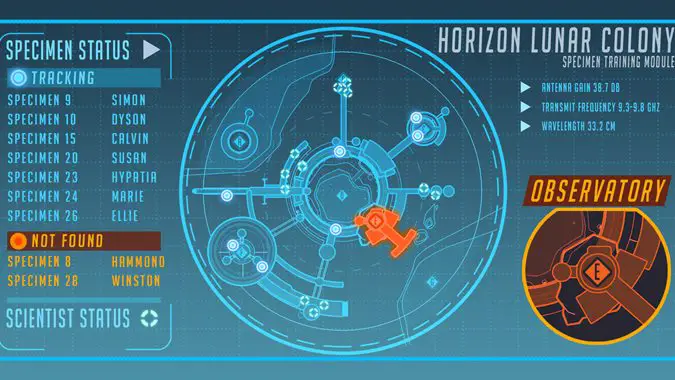 I've been waiting for this one for a very long time. Overwatch has released a new tantalizing bit of lore in the form of an Atlas News report on the Horizon Lunar Colony. Fans familiar with Overwatch lore may remember the Lunar Colony as gorilla super genius Winston's first home. We caught a glimpse of the facility in the Recall animated short, as well as Winston's namesake, Dr. Harold Winston. Winston wasn't the only gorilla in residence — the Colony was established and populated with genetically-enhanced gorillas to help test the effects of prolonged habitation in space.
But somewhere along the line, something went terribly wrong. Dr. Winston and his associates were killed during an uprising staged by the gorillas. Winston built a makeshift rocket to escape and return to Earth, where he later joined the Overwatch team. As for the Horizon Lunar Colony, nothing had been heard from it since the revolt…until now. In the news release, Lucheng Interstellar revealed that the colony's database and monitoring systems had been functioning all along, and they were able to retrieve some of the communication sent in the Colony's final days and hours.
So what does all this add up to? Judging by the information presented and what we already know, I'd say it looks like there may be a new event in the works. The bottom of the news post includes a map tracking the locations of all surviving gorilla inhabitants, although two are unaccounted for. One is Winston — we know where he's at. The other is Hammond, who isn't a gorilla at all, according to one of the notes released in the news report. We don't know exactly what kind of animal he is, other than a "smaller test subject."
Are we looking at a new event? Maybe a new animated short? What exactly do a group of genetically-enhanced gorillas confined to a lunar colony do to occupy the time? We don't have the answers just yet, but it looks like we're going to find out sooner rather than later. Head to the Overwatch website for more on this odd new development.