HS Roulette: Different ways to play Hearthstone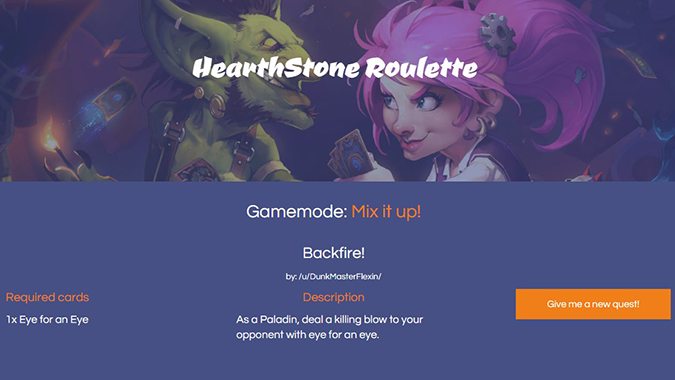 Getting bored with Hearthstone? I took the last month off after I reached rank 20 just to score the cardback. But if you're looking for a new, creative way to play the game, take a look at Hearthstone Roulette. Just because you don't have some of the more powerful cards in the game doesn't mean you can't find ways to win on your terms. For the competitive player who just wants victory at all costs, this might not be appealing. For players looking for a little more variance and something new to do, head on over and give it a try. Currently, Hearthstone Roulette's objectives are limited to Standard, although adding objectives for Wild is in the works.
All you have to do is hit Play on the site. At the moment, it appears that "Mix It Up," which pulls from the other available objectives, is your only roulette option. It will provide you with random deck building goals,  like building a Warlock deck containing Deathwing and Lakkari Sacrifice without other discard cards. Other win conditions include objectives like killing 5 minions with just one Shadow Word: Horror. If a goal can't be accomplished with your current collection of cards, that's okay because you can generate a new quest until you find a fun one to pursue.
Note: Sadly, I've never defeated a player with Eye for an Eye,  but there's a first time for everything.