Tracer Figma available for pre-order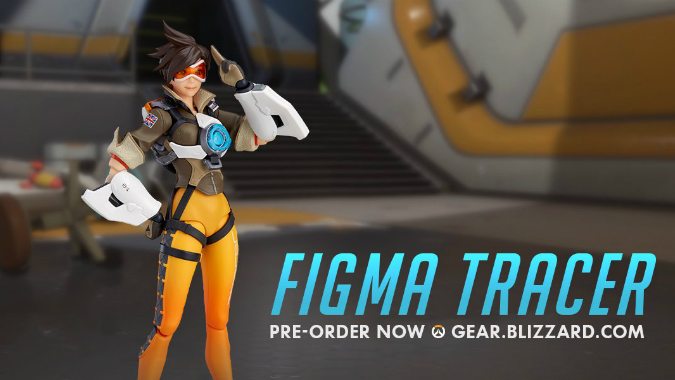 If you have $70 simply laying around somewhere, Blizzard has put its latest piece of slick Overwatch merch up for pre-order: a Tracer Figma figurine. For those of you who aren't hip with the kids, Figma is a Japanese line of articulated action figures, beloved by collectors. Unfortunately, now that we've explained it to those of you who aren't hip with the kids, Figma are no longer hip with the kids, either. I'm sorry, but that's just how it works.
The Figma Tracer's product description is as follows:
From the globally popular multiplayer first-person shooter Overwatch® comes a figma of Tracer!
The smooth yet posable figma joints allow you to act out a variety of different scenes.
A flexible plastic is used in specific areas, allowing proportions to be kept without compromising posability.
Tracer comes with three face plates, including a smiling face, an excited expression, and a serious, confident expression.
Optional parts include her trusty Pulse Pistols as well as a Pulse Bomb to display her using her ultimate ability.
Also included is an articulated figma stand to facilitate various exciting poses.
Figma Tracer is made of painted ABS and PVC and is approximately 140mm in height.
If you pre-order, the Figma is expected to ship by the end of Q4 2017, which might make it a decent holiday gift should you be planning that far ahead. The Overwatch Twitter account also tweeted this figure is part of a new series of collectibles. If Tracer isn't your jam, she's hopefully only the first of many — maybe there's a Widowmaker in your future that won't hit you in the wallet for $150.