News
Jun 19, 2017 8:00 pm CT
Dogs vs. a pile of 90 Murlocs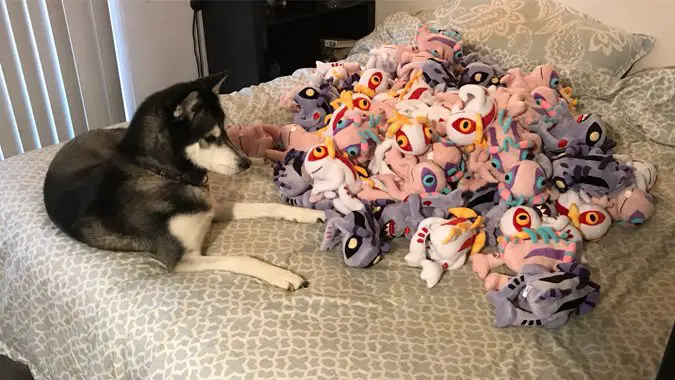 Ever wonder what would happen when you pit two dogs against 90 Murloc plushies? Ok, maybe you didn't, but I bet you do now. Blizzard's own shoutcaster, Jared Coulston, wondered that and apparently took advantage of the sale on Murloc plushies recently from the Blizzard store. In an effort to document this never-before-seen phenomenon, he provided photo evidence and streamed the entire thing, much to our amusement.
https://twitter.com/iamvhell/status/875082915796975618
He was hoping they would dive into the Murloc pile like a ball pit, but the two dogs had other plans. The dogs appeared to be very well-behaved, or perhaps just defective, as they did not immediately tear into the plushie pile. They were very curious and sniffing around, though he did try to coax them into the pile by throwing treats at it. They even tolerated being buried under the mountain of Murlocs. Near the end of the stream they became more playful when they realized, yes, these can be for playing! We even get to see them play around and shake the Murlocs before they just started wrestling with each other. Since Murloc plushies don't really fight back, unlike their more dangerous counterparts in game, I can't really blame the dogs.
Jared cut the stream to take the dogs on a walk, but he promised to bring them back when they were more playful, so maybe we'll get more dogs vs. Murlocs antics in the future. If you were ever in doubt as to how much Blizzard loves their dogs, know that even their dogs' hypothetical happiness is worth a 90 Murloc plushie pile.
https://twitter.com/iamvhell/status/875612380805210112