Have you been collecting tier sets?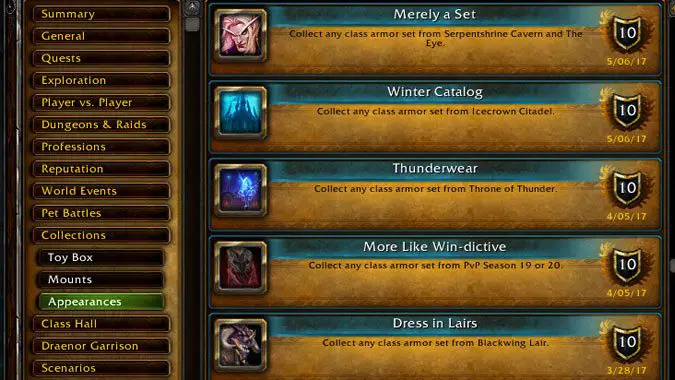 I may be just a little obsessive about transmog — no, let's face it, I'm really obsessive about transmog. I've been obsessed ever since the feature was first introduced. Sure, the addition of the Wardrobe in Legion definitely helps with that whole bank-space situation. But we also got a lot of new achievements this expansion as well. Now I was a fabulous fashionista from day one, but I didn't have all the tier sets collected. I always went out of my way to grab the visible pieces in tier sets. I didn't bother with bracers, and tended to skip belts as well.
What that means is that I've spent the last several months trying to complete all these mostly-finished sets. Part of it is because I just like transmog. But most of it is because I like achievements, too — I like clearing out sections in the achievements tab. Maybe achievement points don't really amount to anything substantial in the long run, but I just like completing stuff. What can I say? Plus, the tier-set achievement names have some of the worst puns imaginable, and I appreciate that too.
I'm not sure what I'll do once I've finished collecting all those tier sets. I suppose I can return my focus on simply collecting every piece of leather gear in the game. That's going to take a lot longer to accomplish, but hey — it's another thing to keep me occupied while I wait for 7.3. What about you guys? Have you been collecting tier sets? Do you spend time working on collection achievements? If you've ever collected tier sets, did you make sure to grab all the pieces? How are your Wardrobe-collecting skills working out — is collecting a fun diversion, or chore you've chosen to ignore?