Latest Heroes balance update reworks Stukov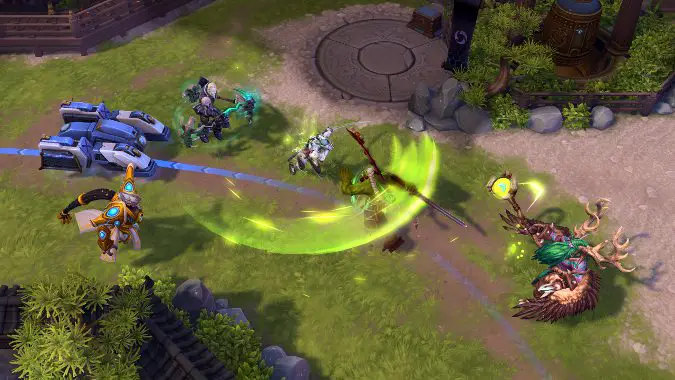 Keeping all of the heroes in Heroes of the Storm on par with one another is a constant balancing act, as indicated by regular balance patches. The latest batch of updates hits both Genji and Xul with some nerfs, cutting their health and increasing cooldown times. Though neither have complete reworks, players will probably feel it. Beyond that, it's a mixed bag of minor buffs and nerfs for Greymane, Tychus, Uther, Chen, Muradin, Rexxar, and Stitches.
But Nexus newcomer Stukov, whose price dropped to 10k gold this week, has received the most extensive changes, mostly in the form of buffs. Lurking Arm — a silence that Stukov's opponents often find overpowered — remains untouched, while the pushback distance of Flailing Swipe has been increased to give him a little more room to maneuver. He's a decent pickup at the reduced price, but be aware that heroes with good single-target burst can take him down easily and his Healing Pathogen (which encourages a team to group up for the best healing) means he can leave his team vulnerable to enemies with strong AOE attacks. We'll have to see how this round of changes affects him.
A few bug fixes round out the patch. You can read up on all of the changes below.
Assassin
Genji
Stats
Health reduced from 1600 to 1550
Health Regen reduced from 3.3 to 3.2
Abilities
Shuriken (Q)

Mana cost increased from 15 to 20

Dragonblade (R)

Cooldown increased from 80 to 100 seconds
Mana cost increased from 50 to 75
Talents
Level 7

Dodge (Passive)

Charges reduced from 3 to 1
Cooldown reduced from 12 to 8 seconds
Greymane
Abilities
Cursed Bullet (R)

Damage reduced from 40 to 35% of enemy Heroes' current Health
Tychus
Talents
Level 4

Fully Loaded (Q)

Cooldown reduction increased from 33% (4 seconds) to ~41% (5 seconds)
Specialist
Xul
Abilities
Raise Skeleton (Trait)

Health reduced from 300 to 270

Cursed Strikes (W)

Cooldown increased from 15 to 16 seconds
Talents
Level 1

Backlash (Trait)

Damage reduced from 15 to 12% of enemy Heroes' maximum Health

Level 4

Grim Scythe (W)

Cooldown reduction per attack increased from .5 to .75 seconds
Maximum cooldown reduction increased from 10 to 12 seconds
Support
Stukov
Abilities
Healing Pathogen (Q)

Mana cost increased from 30 to 40

Flailing Swipe (R)

Pushback distance increased by 50%
Talents
Level 1

Spine Launcher (Passive)

Slow duration increased from 1 to 1.5 seconds (now matches his attack speed)

Fetid Touch (W)

Quest requirements reduced from 20 and 40 Heroes hit to 15 and 30

Growing Infestation (E)

Added functionality:

Now increases the Cooldown of Lurking Arm by 4 seconds

Level 4

One Good Spread… (Q)

Spreading requirement reduced from 4 to 3 Heroes
Mana refund increased from 30 to 40

Vigorous Reuptake (D)

Healing bonus reduced from 50 to 40%

Level 16

Pox Populi (D)

Adjusted functionality:

Detonating Bio-Kill Switch no longer refreshes heal duration, but instead extends it by 3 seconds

Level 20

Controlled Chaos (R)

Cooldown between casts reduced from 3 to 1 second
Cooldown for each charge reduced from 40 to 30 seconds

Push Comes to Shove (R)

Duration requirement reduced from 1.5 to 1.25 seconds
Uther
Abilities
Holy Light (Q)

Healing reduced from 380 to 360
Self-healing reduced from 190 to 180

Holy Radiance (W)

Mana cost increased from 60 to 70
Warriors
Chen
Abilities
Fortifying Brew (Trait)

Brew per second reduced from 40 to 30
Chen will now instantly gain 25 Brew upon activation
Talents
Level 1

Elusive Brawler (Active)

Cooldown increased from 20 to 25 seconds
Cooldown reduction from Basic Attacks reduced from 3 to 2 seconds
Muradin
Stats
Health increased from 2633 to 2765
Health regen increased from 5.5 to 5.8
Rexxar
Talents
Level 1

Flare (Active)

Cooldown reduced from 25 to 20 seconds
Stitches
Abilities
Vile Gas (Trait)

Damage reduced from 18 to 17
Talents
Level 1

Heavy Slam (W)

Bonus damage reduced from 50 to 40%
Bug Fixes
Heroes, Abilities, and Talents
Diablo: Casting Shadow Charge on Sgt. Hammer while she is in Siege Mode will no longer cause Diablo to pass through her.
Malfurion: The Moonburn Talent will no longer cause Moonfire to deal bonus damage to Mercenaries and Monsters prior to reaching 25% bonus damage against Minions.
Malfurion: Casting Astral Communion now properly consumes 100 Mana.
Nazeebo:  Fixed an issue that could prevent Voodoo Ritual from gaining stacks after scoring the killing blow on a Minion.
Stukov: Fixed a typo in the tooltip for Fetid Touch.
Stukov: Stop, Hold Fire, Taunt, and Dance commands can no longer be issued while casting or channeling Lurking Arm.
Stukov: Fixed an issue that could cause FPS to drop to 30 when targeting Lurking Arm.
Stukov: Massive Shove will no longer be cancelled when used on Sgt. Hammer while she is in Siege Mode.
Tyrande: After learning Huntress' Fury, Basic Attacks against targets with Hunter's Mark will now correctly splash to nearby enemy Mercenaries.
Tyrande: Fixed an issue causing Sentinel to benefit from increased width prior to learning the Ranger Talent.