Garrosh is here with this week's Heroes rotation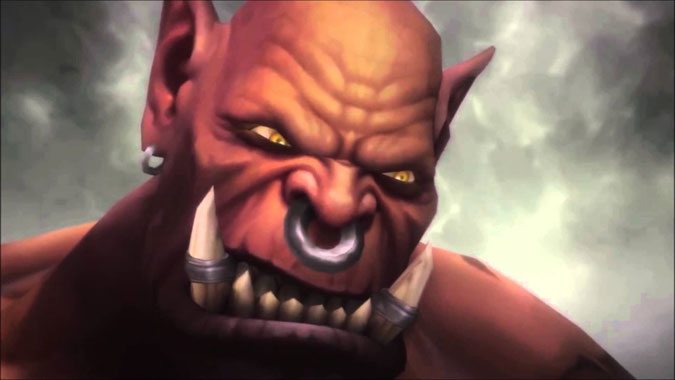 On top of the standard weekly rotation, Garrosh arrives in Heroes of the Storm this week. Whether you're planning on picking him up or not, you'll want to be aware of his skills… because you're sure to see plenty of Garroshes (is that really the plural of Garrosh?) running around this week. Here's what you can expect from this week's newbie:
Trait

Armor Up

Garrosh gains 1 Armor for every 2% of maximum Health missing.

Basic Abilities

Groundbreaker (Q)

Deal damage to enemies in an area. Heroes hit on the outer edge are pulled toward Garrosh.

Bloodthirst (W)

Deal damage to an enemy and Heal for 10% of Garrosh's missing Health. Healing is increased by 100% against Heroes.

Wrecking Ball (E)

Throw a nearby enemy Hero, Minion, or Mercenary to the target location, dealing damage enemies near the impact and slowing them by 30% for 2.5 seconds.

Heroic Abilities

Warlord's Challenge (R)

Silence nearby Heroes and force them to attack Garrosh for 1.5 seconds.

Decimate (R)

Deal damage to nearby enemies and Slow them by 30% for 1.5 seconds. Deals 100% more damage to Heroes, and each Hero hit reduces the cooldown by 1 second.
Stores up to 3 charges.
We'll see some new skins and hero tweaks as well — check out the PTR patch notes for the full rundown. But if none of this excites you, don't forget that Ranked Season 2 ends in a month, so if you want to pick up the Earthbreaker Grizzly mount, you'll want to get on that.
Beyond that, there are just the standard rotations, which you can find below.
Hero rotation
Li Li
E.T.C.
Zagara
Butcher
Kael'Thas
Artanis
Lunara
Azmodan
Auriel
Kerrigan
Stitches (Slot unlocked at Player Level 5)
Falstad (Slot unlocked at Player Level 10)
D.Va (Slot unlocked at Player Level 15)
Medivh (Slot unlocked at Player Level 20)
Hero sales
Brightwing: 312 Gems
Kharazim: 312 Gems
Featured items
Elder Flying Monkey Brightwing skin
Flame Dragon Kharazim skin
SI:7 Bloodfang Valeera skin
Infernal Sulfuron Ragnaros skin
Sand Desert Queen Zagara skin
Crown Prince Arthas skin
Spectre Phantom mount
Citrine Cyber Wolf mount
Weekly brawl