WoW
Sep 5, 2017 8:00 pm CT
Shado-Pan Showdown brings a touch of PVE to PVP brawling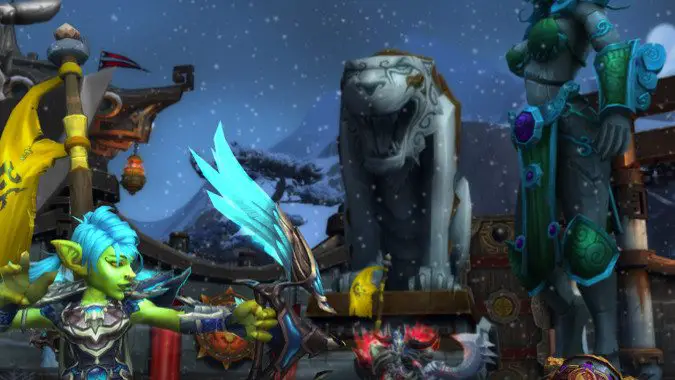 PVP Brawls have been a fun way to shake up the usual Battlegrounds that are the backbone of the PVP experience in World of Warcraft. Similar to Overwatch and its Arcade or Hearthstone's Tavern Brawls, the PvP Brawls offer new experiences by changing rules, victory conditions, or adding new mechanics for players to overcome in their quest for victory.
This week, from September 5th to the 12th, the Shado-Pan Showdown does this by adding PVE mechanics familiar to anyone who's ever run a dungeon in WoW. Two teams of five players, each with one tank, one healer and three DPS, meet in the Tiger's Peak Arena. Engage in battle to control the center of the arena and unleash one of two boss NPCs linked to each team. The first team to control the arena, unleash the boss and then defeat their enemy's boss NPC wins the match. It's sort of like running a dungeon if the trash was an enemy party instead.
Since only one boss can be active at a time, this is a Brawl that rewards you for proper Player vs. Player control of the space with the chance to win by spawning the NPC. But you'll still have to deal with the other party, who aren't likely to make it easy for you to kill their boss.
You can still queue for Shado-Pan Showdown using the PvP queuing system same as all the other Brawls. This is an entirely new Brawl added to the rotation, so if you haven't tried PVP Brawls out yet, and you're more of a PVE player, now might be the time to try it out for yourself. You've got a week to experience the Shado-Pan Showdown for yourself.