Pachimari Mania event in Heroes of the Storm offers many Pachimari-themed rewards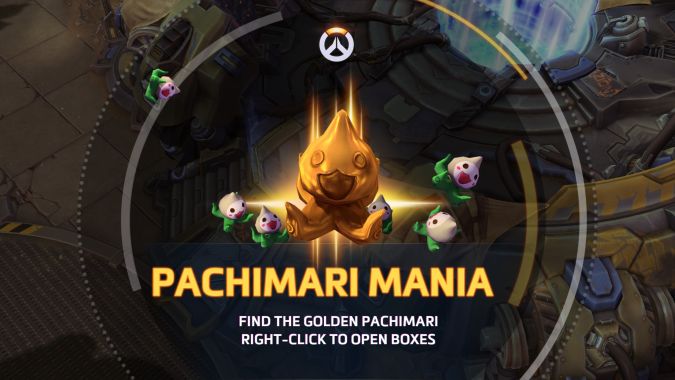 Today marks the appearance of Ana in Heroes of the Storm's Nexus, but she's not the only new addition to the game. After all, a skillshot-based Support hero is fairly niche and may not appeal to everyone. You know what does appeal to everyone? Pachimari.
You know what's even better than Pachimari? Golden Pachimari.
And thus, golden Pachimari have descended upon the Nexus, ready to shower you with rewards. Similar to some of the past events in Heroes of the Storm, the Pachimari Mania event involves a lot of running around your base before the gates have actually opened. This time, the goal is to open the various Overwatch-style loot boxes that litter your base, and to be the first team to find the box that contains the golden Pachimari.
What I like — and you may or may not like — about this event is that it's made better by your team all working together, but it's still something that can be won even if you're the only one contributing. The golden Pachimari can be hidden in any box, which means you could potentially get it on your very first one. It's certainly a welcome approach, in my opinion.

But, of course, you probably want to know what you actually get for doing all this pre-match running around. There are four quests associated with this event, and just like the Call of Kel'Thuzad quests, they can only be completed one at a time. As seen above, the quests reward and require the following:
Pachimari Emoji (Find 2 golden Pachimari)
Pachimari Banner (Find 5 golden Pachimari)
Golden Pachimari spray (Find 8 golden Pachimari)
Pachimari portrait (Find 10 golden Pachimari)
So whaddaya think? Is this the sort of event that'll get you in a fervor over Pachimari, or are you just sort of "meh" on these events?