WoW
Oct 16, 2017 3:00 pm CT
Then and now with the WoW dev team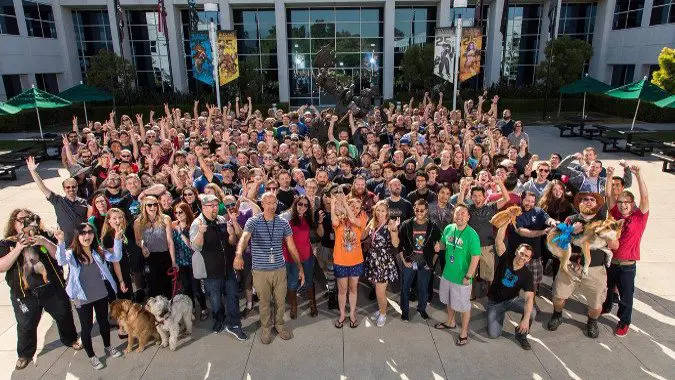 Sometimes pictures only tell part of a story, but that part is worth exploring. World of Warcraft has been out since 2004, and was in various stages of development before that. And amazingly, it was developed with a team around fifty people and shipped with about sixty. Compare that to this tweet by James Ridgers (a lead programmer at Blizzard) and you'll see the scale of how times have changed.
Not often this happens. Taken on Tuesday. This is the entirety of your World of Warcraft dev team. #blizzlife #wow #worldofwarcraft pic.twitter.com/vsej6G9xlU

— James Ridgers (@englishguy) October 13, 2017
The original team shipping the game with sixty people seems almost like a miracle, especially when I remember the early days of trying to raid Blackwing Lair with 40 impatient raiders and servers that were up and down like a horrible, looming elevator waiting to destroy you. Or maybe I'm just remembering the elevator in Undercity, which literally wants to destroy you.
Ridger's tweet presents a dev team easily twice if not three or more times the size of the launch team. Which isn't all that surprising, as the game has grown immensely since those days. Perhaps we should be more surprised it isn't even bigger than that. But it's still crazy to think about how everything we had in WoW when it launched in 2004 came from sixty people. It's not all that surprising that several Molten Core drops had to be reskinned, that Maraudon and Dire Maul were part of later patches and not part of the release game. Or that we didn't have a functioning PVP system outside of Tarren Mill vs. Southshore and Barrens raids. When you realize that everything you saw and did back then was the work of that small a team, it makes sense.
And yeah, I'm saying sixty people is small, but it's bigger than some entire game studios, so at this point it's safe to say that more people work on World of Warcraft than some companies have ever employed. The game is massive not just in its virtual world iteration, the sheer scale of its development needs beggars the imagination. I'm glad Mr. Ridgers posted this image and humanized what we often treat as faceless 'devs' — they're people, and generally people who love games as much if not more than we the consumers of said games.
Plus there are dogs in that picture and that's freaking awesome.