Dread the spine-tingling terror of Overwatch's Return of Junkenstein comic
Who is Jamison Junkenstein? What does he want? How did he survive last year's fracas to return now? Who are these people trying to stop him? How on Earth do we get that Genji skin with the hat and OMG why is that not a skin? These questions and more* will be answered in the terrifying tale The Return of Junkenstein.
Gary Shuko's illustrated tale of madness, mayhem, monsters, and malefic mavens of malignant magic wreaking havoc on a small town doesn't exactly explain why our favorite Overwatch characters are suddenly witches, vampires, cultists, and vikings, but does that really matter? No, it really doesn't.
What matters is having a spooktacularly good time reading this tale of one mad doctor's quest for chaos and carnage that defies death itself due to a certain witch and her tendency to raise the dead. I mean, just take a look at that art: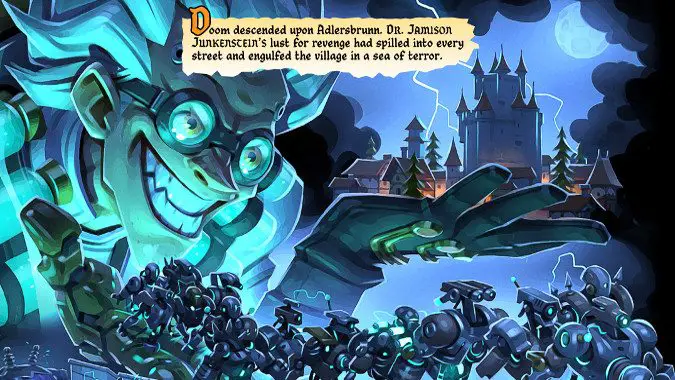 A sea of terror, all right — mechanized Zomnics, a headless-horseman Reaper, Symmetra as a dragon summoning sorceress, and of course the mad doctor and his monstrous creation are all here to do battle. It's a rampaging good time to be had by all, and the story captures the mood without worrying too much about any of it making sense because, well, none of it does. And that's terrific. Head on over to the official Overwatch site and read the short illustrated story now.
*The Genji question is not actually answered. Sorry.