Hearthstone's Hallow's End event is live with tricks, treats, and more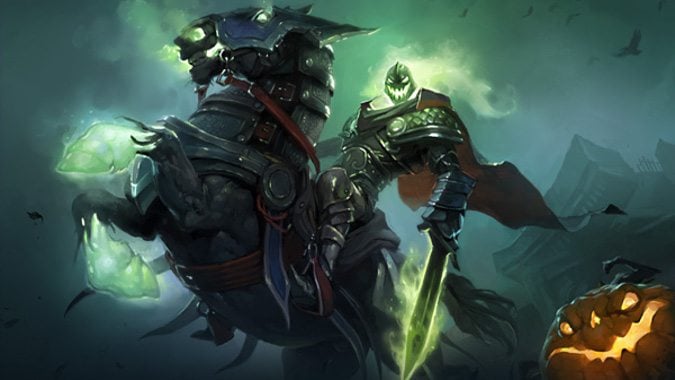 Update: This event is live now, so hop into Hearthstone to earn those rewards!
It's the Hallow's End season, and Hearthstone is joining in on the festivities from October 24 to November 6. Not only will you be able to get special goodies just for logging on, but you can also take part in a special Tavern Brawl that suits the theme — namely, the theme of getting disguised and wreaking havoc.
Each week during the Hallow's End event, you can log in for special rewards. Log in between 11 AM  Pacific on October 24 and 10 PM Pacific on October 30 to get your hands on a Whispers of the Old Gods card pack and an Arena ticket. Then log in any time from October 3 at 12:01 AM Pacific to 10 PM Pacific on November 5 to get a Knights of the Frozen Throne card pack and another Arena ticket.
But it's not all about logging on for free stuff — even though by itself that's a pretty excellent reason, in my opinion — there's also a new dual-class Arena Mode for you to check out. The classic Hearthstone heroes you've been playing all along will now be showing up as each other, in a costume-themed match-up.
When you start this Arena, you pick a hero as normal, but then you get to choose a Hero Power — for example, you could play as Garrosh but with Jaina's Fireblast instead. The cards you're offered will be from both the Warrior and Mage decks, in addition to neutral cards. You can — and are encouraged to — use your free Arena ticket for logging in to play this new mode and see it for yourself.
Finally, there's a new Tavern Brawl, The Headless Horseman Rides, that will run from October 25 to 28. In it, you'll be battling the infamous Horseman, but in order to best sneak up on the cranially challenged cavalier, you're going in disguise. What's that mean? Well, you won't even know what cards you're going to get until you're in the brawl, and you'll have a new Hero Power that's unique to the brawl. You'll not only get a random assortment of cards from various classes, but you'll need to learn how to best defeat the Horseman using your new Hero Power.
It's a big, gaudy party befitting the Hallow's End season, and it runs from October 24 to November 6. And remember, if you attend a live Fireside Gathering tavern in your area you can get a Nemsy Necrofizzle for your Warlock as an optional hero variant.