Jeff Kaplan talks toxicity and hints at more Mercy changes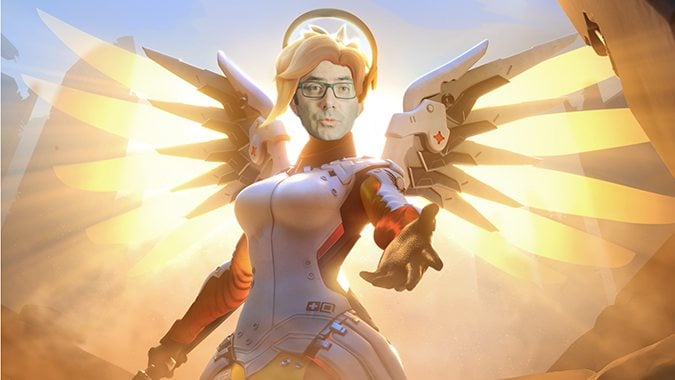 Our first glimpse of Mercy's rework in which she lost Mass Resurrection came to us all the way back in late August — a full two months ago now. According to Overwatch Game Director Jeff Kaplan, Mercy is still a work-in-progress and there are more changes on the horizon. Notably, the developers feel Mercy's single-target resurrect is still oppressive in its current state. Though Kaplan provides no specifics, he says the developers are experimenting with "toned-down" versions of the ability.
In the same post outlining the Overwatch team's priorities, Jeff Kaplan also touches upon both competitive play and the game's issues with toxicity. Much like in his discussion of Mercy, he provides few details. In short, competitive matchmaking will be improved both on their back-end (which will not require a patch), with some longer-term changes in the works as well. His comments on toxicity are equally vague, but ends with a plea: Keep reporting toxic players.
Hey all,
Thanks for all of the discussions here on the game. We've been reading as much as we can and appreciate all of the passion.
Sorry we haven't posted as much as we usually do lately. We've been working really hard on some pretty awesome stuff for Blizzcon and we're super excited to share it all with you next week!
I know some of you have concerns about some issues in the game so I wanted to just take a quick minute and tell you what our current focus is internally.
We've been discussing the state of the Mercy rework a lot and listening to all of the feedback. Overall, we feel like the new direction for Mercy is much better for both Mercy and non-Mercy players. But we do feel like she's too dominant right now. In particular, we feel like the resurrect ability is changing the tone of the game to a degree which is simply too powerful. As such, we're experimenting with different toned-down versions of the ability. After all, resurrect is no longer an ultimate and is now an on-cooldown ability so it needs to be less powerful. I know that you're going to want more details but we're nearing a point with internal iteration where we feel comfortable putting something on the PTR soon. We'd rather have you play the changes than theorycraft them.
Another topic that we've been focused on a lot lately is Competitive Play. We don't have immediate changes to discuss right now but we're closely studying issues and perceived problems with the system with an eye toward improvement. Along with that, we talk a lot about matchmaking within the competitive system. We have some plans that should improve some issues that players are seeing — especially at the high end of the skill rating spectrum. We have long and short term plans for Competitive that should hopefully improve the experience over time. We're hoping that we can get more of these changes in at a faster pace rather than waiting for major milestones. Some of the matchmaking work we want to do is strictly done on our servers which means that we don't have to wait for a big patch to go out. Again, I know you want more specific details but game development is a process and we're actively discussing and iterating on ideas and systems right now.
The third big focus that's being discussed is toxicity. A lot of what we do here we cannot and will not discuss publicly. The more players understand about how these systems work, the more they will be able to game them. There have been a lot of improvements in this area and the number of actioned players continues to rise. The more we restore your faith in our systems, the more we hope you use them (talking about reporting here specifically). We're also hoping to have player feedback in the game when someone you reported was actioned by the end of the year. The email pilot program has gone well so far and we keep trying to expand that until we get the in-game system up and running. Please keep using the reporting system. I swear to you, it does work and we're really focused on improving it. But we need your help.
Obviously, there is a lot more going on besides the three topics I brought up. But I think those three things are some of the issues the community as a whole is most concerned about and therefore I think those should be my team's top priorities. We have a ton of cool, fun stuff coming — some of which will be announced at Blizzcon. And we're also really proud of some of the work we just completed to make spectating esports better. World Cup should be pretty cool and will teach us a lot for when it comes to improving spectating in the future.
We really appreciate all of the passion you've shown for the game. We're lucky to have players like you.
All the best,
ow team
We don't mean to be hard on Kaplan here; we understand the necessity of vague language. If their plans for Mercy and competitive matchmaking aren't final, saying too much can only bring heartbreak. As Kaplan himself says, he'd prefer players actually playtest the changes rather than partake in theorycraft on something the developers consider incomplete.
Likewise, there are certain elements that don't make sense to give away. If toxic players are given a method to abuse the tools being implemented to combat toxicity, it's counterproductive. That said, when your community's rampant toxicity is undermining the heart and soul of the game (and making your players miserable), some transparency might be in order.