BlizzCon 2017: Hearthstone's next expansion is Kobolds and Catacombs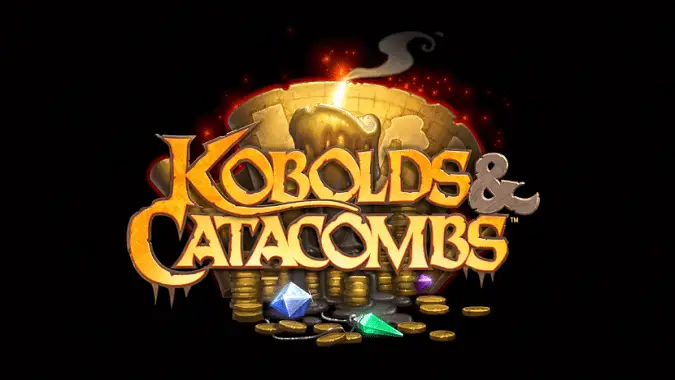 Ben Brode announced the next Hearthstone expansion today live from BlizzCon: Kobolds and Catacombs! The set is inspired by a "dungeon-crawling vibe" with a kitchen table D&D feel. The set features a legendary weapon for every class the new Recruit keyword. Recruit allows you to take a minion from your deck and put it directly into the battlefield.
Kabolds and Catacombs also introduces a brand new single-player mode to Hearthstone called "Dungeon Run." In this mode, you'll start with a randomized deck and try to take on eight bosses without dying. After defeating each boss, you'll earn new cards for your deck. If you fail, you'll have to start over with a new deck. Best of all, this mode will be completely free to play. This is Hearthstone's answer to repeatable solo content. Dungeon Run is playable at BlizzCon!
Brode led us through a Choose Your Own Adventure style reveal, with the crowd cheering to choose between two choices. First he revealed the legendary neutral minion Marin the Fox. Marin creates a 0/8 box minion for your opponent. If you successfully destroy it, you'll get Tolin's Goblet, a spell that lets you draw a card and fill your hand with copies of it. Brode also revealed Crushing Walls, a 7-mana hunter spell that destroys the leftmost and rightmost minions on your opponent's board, and Gather Your Party, a 6-mana warrior spell that lets you recruit a minion. Finally, Brode revealed the legendary priest weapon Dragon Soul: a 0/3 weapon that gives you a 5/5 dragon whenever you play three spells in the same turn.
Everyone who logs into Hearthstone on Monday will get Marin the Fox for free, while BlizzCon attendees and Virtual Ticket buyers will also get a golden copy. We'll have more info later today at the Hearthstone: What's Next panel starting at 1:45 p.m. Pacific, which you'll find live right here.