WoW
Nov 3, 2017 6:51 pm CT
BlizzCon 2017: The Powerful Women of Warcraft panel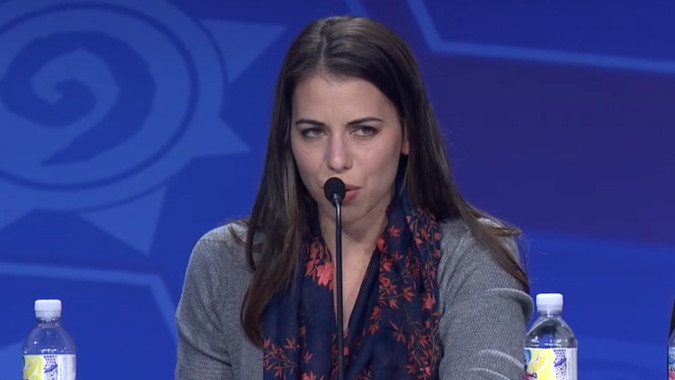 Andrea Toyias was the host of the panel, and as Sr. Casting and Voice Director that makes a lot of sense. Since I've never been to BlizzCon this is the first time I've seen her host one of these panels, but she's been doing it for years and I'm more jealous than ever that I missed all of that. She opened the panel with a touching tribute to Pierre Debs, who helped take World of Warcraft union and who recently passed away.
A lot of us have noticed a pretty solid spike in WoW's voice acting over the years and a lot of that can be attributed to the move to a union shop, allowing a more diverse pool of actors to come in.
The actresses that were featured at the panel were Laura Bailey, Elle Newlands, Debi Mae West, Misty Lee, Salli Saffioti, Mara Junot, and Patty Mattson. Senior Director Steve Danuser was there as well, providing details like how to pronounce character names and what it's like to wear a metal bra — apparently he has some experience.
Voicing the Characters
Laura Bailey talked about voicing Jaina Proudmoore, and all the different ways she's had to play the character over the years. The changes that she's undergone over the years, including physical changes in terms of how she stands when she does the role. As she pointed out, there are many different flavors of Jaina — pre-Theramore, post-Theramore's destruction, the way the character was when WoW started versus who she is now.
Elle Newlands talked about playing Moira and about how it's often strange for her when people criticize her Scottish accent, which is her actual accent, as she is from Scotland. A common thread for the panel was how painful past experiences from the actors inform the characters. One  of the best points that Andrea Toyias made was about how the actress eventually becomes as much if not more of an authority on the authenticity of these characters as anyone, because they're the ones who has to make us believe what they're saying to us.
Debi Mae West, who plays Maiev, talked about how hard she has to reach down to get Maiev's voice, how she had to have surgery last year and about how intense Maiev is and how hard she can be to play. I mean, the idea of having to get surgery because you've growled Illidan a lot in your life is a touch frightening for me, but she seemed to enjoy the role. And man, you would never guess hearing her talk that she's the same person, it's an utter transformation.
Misty Lee is the voice actress playing Liadrin and had a really great insight about who she is and how she got that way, specifically how the character is rooted in the choices she's made that help define her. Half of the fun of this entire panel was getting to watch each actress get up and show how they perform the role when in the booth, and Misty absolutely goes for it. Also she mentioned that someone tried to kill her husband and how that informs how she performs as Liadrin which is pretty wild.
Salli Saffioti talked about Thalyssra, how the character's morality comes from decision, which is pretty similar to what Misty Lee said about Liadrin and how you have to make choices. Mara Junot, one of the newer actresses to Blizzard games up on stage having taken over the role of Alleria Windrunner, spoke about playing Alleria and learning to use the darkest places inside her to help bring that character's darkness to life. Also there was some discussion about a Windrunner reality show. I think we'd all watch that. Also, I gotta love that Mara Junot first came to Blizzard as a fan, playing the Diablo games. Please get her to do some voices for Diablo.
Jaina vs Sylvanas
Speaking of the Windrunners, Patty Mattson is a lot nicer than Sylvanas, but I guess that's to be expected. She compared the character to Atilla the Hun, which I have to admit I never really thought of her that way before. I mean, it works, but it's definitely not what I expected. Also, much like Debi Mae West she managed to do a really amazing vocal transformation to play the role.
Quite frankly, the entire panel was worth watching just to get to see these actresses sit down and read various famous lines from their iconic characters. The insight into the psychology of voice acting and how actresses managed to find a voice for a character so very different from themselves is also interesting, but man, Laura Bailey or Patty Mattson belting out as Jaina and Sylvanas was worth the entire cost of the Virtual Ticket, and when you add Debi Mae West's terrifying Maiev or Misty Lee's Liadrin, I was enthralled. If you skipped this panel to watch some of the exciting news, that's completely understandable, but you should go back and watch it on the ticket as soon as you possibly can.
I loved this panel. I'd watch this panel sixteen times a day. I wish they did this panel weekly.