BlizzCon 2017: Voice chat integration and Communities in WoW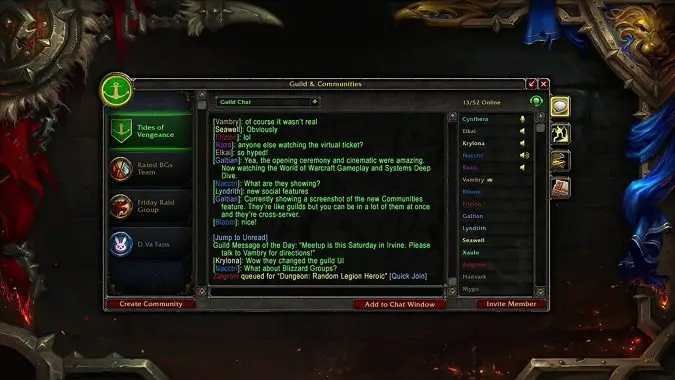 In today's WoW Systems Panel, Blizzard revealed a host of improvements to help players communicate and cooperate.
First and foremost, WoW will receive Battle.net voice integration — the same voice integration currently used in Overwatch. Blizzard's first attempt at voice chat way back in The Burning Crusade days didn't go so well: patch 2.2 initially gave us the option. It was bad and no one used it. This time I have a feeling Blizzard will finally pull it off.
Next, Blizzard unveiled a brand new way to group up with other players and form communities. They're called…Communities! This is Blizzard's answer to the varieties of group content available in the game and an acknowledgment that players don't engage in every type of activity with members of a single guild. Communities will allow players to form larger social structures that transcend guilds. They'll have many of the same features as guilds, such as rosters, role management, a chat channel, and calendar features.
Unlike guilds, Communities will not be limited by realm in any way. They'll still be tied to a specific character, however. If you do Arena matches on one character and Warfronts on another, you can join different Communities for each. If you do Mythic+ with one group of players but raid with your guild, you can join that Mythic+ Community with the same character that's also in a guild. Communities will also offer a quick-join feature to bring players on board with minimum hassle.
Blizzard wants to give players powerful, flexible tools for keeping in touch with one another. In service to that goal, they're adding several features to both Communities and guilds. Both will feature voice integration so you can chat with your friends no matter what sort of group you're in. Both will provide text chat histories so you can keep up with every comment and murloc movie pun whether you're online or not. Also, both will include automatically maintained calendar invites for scheduling events, contests, and karaoke nights.
All of your social connections will be bound together in a snazzy new UI, showcased in the screenshot above. As you can see, each Community will have its own tab, and so will your guild. Chat and rosters will also be accessible here. To make an educated guess based on the icons on the right, it appears that banking and other group functions may also be part of the UI.
Communities are a necessary step for WoW, but how will this impact guilds themselves? We'll have more on this in an upcoming Officers' Quarters column.