Hearthstone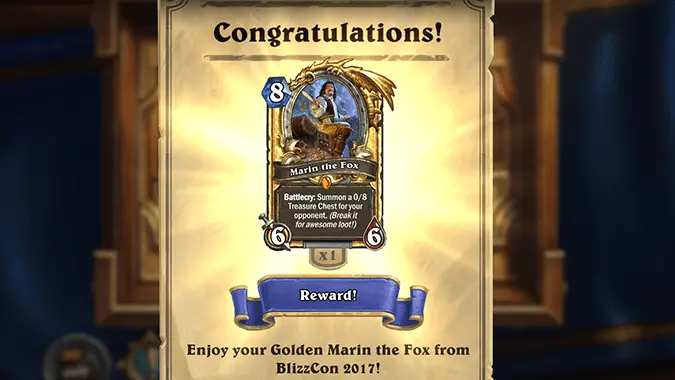 Hearthstone: Patch 9.4.0 is now live, includes Marin the Fox and more
Patch 9.4.0 for Hearthstone is now available on live. Marin the Fox should also be available for everyone (with gold versions of the card for those who attended BlizzCon or bought the Virtual Ticket). Mobile updates will come out soon. This update enables the option to pre-purchase Kobolds and Catacombs, which also includes the For the Hoard card back. In addition, some cosmetic fixes were added to Nemsy Necrofizzle.
Legends tell of a vast underground world and the countless, shiny treasures that lie in store for worthy adventurers! In this update we're readying your party to explore Hearthstone's latest expansion, Kobolds & Catacombs, when it arrives in December! We also fixed several bugs.
This patch is currently live for PC! Mobile versions will become available in the coming hours.
The Kobolds & Catacombs pre-purchase bundle is now available from the in-game Shop. This bundle includes 50 card packs at a special price and the For the Hoard card back.
Grab your gear and get ready for adventure: Kobolds & Catacombs releases December 2017!
The Legendary card Marin the Fox and the For the Hoard! card back are now available for use in-game.
Added the following card back:

For the Hoard! – Acquired from the Kobolds & Catacombs pre-purchase bundle
Nemsy Necrofizzle now has a unique Hero tray.
Nemsy Necrofizzle's Hero Power button is now animated.