New Diablo 3 hotfixes buff Phalanx for Crusaders and more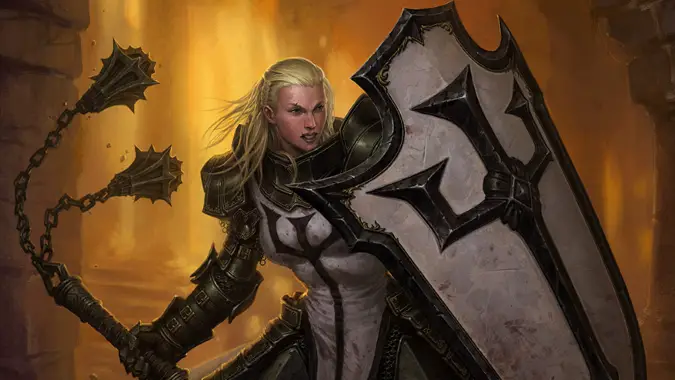 The November 8th hotfixes for Diablo 3's patch 2.6.1 are here, just in time for Season 12 to start up tonight. One of the fixes was to the Mystic, who was having trouble reforging specific items. Apparently now she'll remember how to rejigger the whatsawhoosits and get the proper affixes in the enchant window.
In addition, the Crusader legendaries Ivory Tower and Warhelm of Kassar saw fixes. Technically the Ivory Tower isn't class specific, but it benefits greatly from a Crusader's talents and runes and works well with the legendary Fate of the Fallen mace. The change supposedly does nothing to the item's power so I imagine it was simply going off too much and hurting game performance in some way, similar to a variety of changes we saw in patch 2.6.1.  The change to the Warhelm of Kassar is a simple enough fix — it wasn't buffing Crusader damage properly, and now it is. Many Crusader players who use a Phalanx build will likely be happy with this change.
You can check out the patch notes on the official site or read them below.
Below you will find a list of hotfixes recently applied or coming soon that address various bugs or mechanic tweaks.
These hotfixes should not require you to download a new patch. Some of the hotfixes below will go live the moment they are implemented while others may require restarting the game to go into effect. Please keep in mind that some issues cannot be addressed without a client-side patch. Also note that changes to certain abilities will not be reflected in its tooltip until a patch is issued.
Last updated November 8. Hotfixes are denoted by the date they were applied to live servers.
[LIVE HOTFIXES]
General
Mystic

Fixed an issue where legacy versions of Dead Man's Legacy, Staff of Chiroptera, and Manticore would sometimes display a blank affix in the Mystic's Enchant window (11/8)
Items
Ivory Tower

Ivory Tower now has an internal cooldown (11/8)
Ivory Tower's proc now scales with the amount of blocks the player had occur within the internal cooldown timeframe (11/8)

This additional change should result in no change in power for this Legendary

Warhelm of Kassar

Fixed an issue where Warhelm of Kassar was modifying the Crusader's damage by an incorrect amount (11/8)