WoW
Nov 13, 2017 6:00 pm CT
Help knit or crochet Blizzard's annual holiday Orc sweater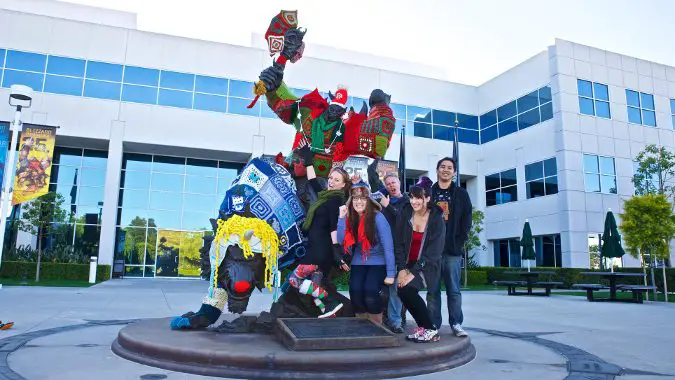 Back in 2009, Blizzard Entertainment installed a 12-foot orc wolfrider statue in its campus courtyard. The company has long had a tradition of dressing the statue up for the holidays — pictures of which tend to trickle onto Twitter and other social media outlets over the course of the holiday season. This year, Blizzard is reaching out to the community to help them deck the orc.
Every December, a group of nimble-fingered Blizzardites get together and carefully craft a sweater to keep our dearly beloved Orc and his direwolf warm and well-dressed for the holidays. This year, we'd like to give our community the opportunity to contribute!
This year, the Orc will be showing off his Blizzardy pride with shades of blue and gray. If you knit or crochet, you can join in the fun. Your square can be textured, striped, patterned—just keep it family friendly. Here's how you can help:
Craft a 6×6 inch square (roughly 15x15cm) in shades of blue or grey (or both!)
Pop it in an envelope on or before November 27, 2017.
Send it to Blizzard, using the following address:
Starweaver Goodstitch
3 Blizzard Way
Irvine, CA 92618
Many thanks to the dexterous designers who'll help us kit out the Orc this year!
Personally, I know nothing about knitting or crocheting. I've neither knit nor crocheted anything in my life. A deadline of November 27 for a 6×6 inch square could be generous — or it could be outrageously tight. I have no idea! In either case, this is a cool little project to get involved with. Other than the requirements of blue, grey, and family friendly, it seems anything goes. Personally, I'm curious to see how many Alliance logos the orc will be wearing this year.
Though I've never knit before, I know just how popular a hobby it is. There's no doubt in my mind Blizzard will be able to keep this orc nice and warm this holiday season with squares to spare. Considering the orc is in California, though, I doubt warmth is their utmost concern.