Winter Veil skins appear in latest Heroes of the Storm PTR patch
Click here for more photos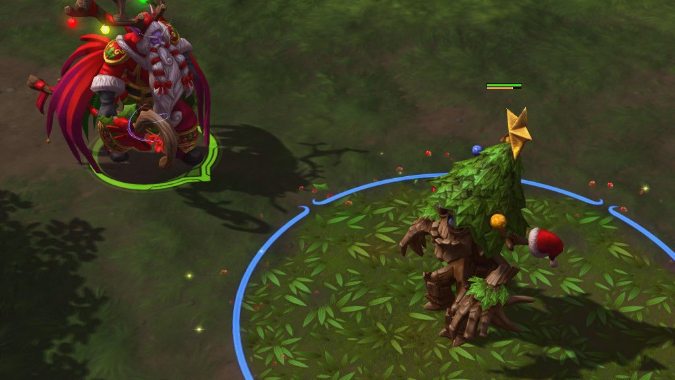 The 2018 Gameplay Update patch hit the Heroes of the Storm PTR today with a spread of massive gameplay changes, but let's be real, here. We don't play video games for silly things like solid game mechanics. No, we play games so we can dress up our characters to look pretty and precious. Though the Heroes patch doesn't have the Winter Veil skins enabled for play or purchase, they can be accessed in-game through unusual methods.
This year's Winter Veil introduces new themed skins for Malfurion, Malthael, Kharazim, and Valla, though only Malfurion and Malthael receive themed abilities to match their outfits. Currently, the new skins are called:
Winter Veil Kharazim
Season's Reapings Malthael
Greatfather Winter Malfurion
Winter's Helper Valla
Kharazim is probably the least impressive of the bunch, as it's essentially bog standard Kharazim with a Santa hat and candy cane knuckles. Malthael is a little more elaborate with the bells and holly on his outfit and wielding two of the most menacing candy canes known to mankind. Malfurion and Valla are definitely the highlights, however. Both have great festive outfits with plenty of detail, and the majority of their spells and abilities have been appropriately altered. Valla's dual crossbows shoot festive lights and deadly candy canes, while Malfurion's Moonfire has been replaced with snowflakes — and the Treant spawned by one of his talents has been all dressed up for the season.
Valla's skin threw me off when I first saw it when you consider her elven ears. Heroes of the Storm has plenty of elves in it already, and Valla is not an elf. But in this skin, she is an elf, because she's a Christmas elf as opposed to a Night Elf or Blood Elf or a Whatever Else Elf. I'm not sure whether I'd prefer they picked an elf to be an elf, or whether I love the developers turning a not-elf into an elf. Can you ever have enough elves? Probably not.
If you want to take a sneak peek at these skins for yourself, hop over to our gallery which includes in-game shots of their altered combat abilities.