Overwatch League preseason starts with a bang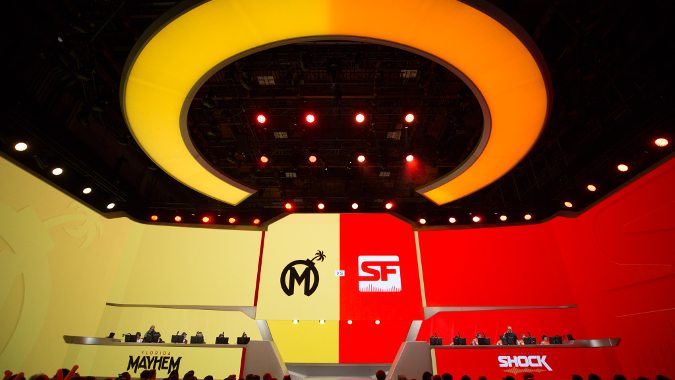 It was only natural things would get explosive last night, since one of the first teams playing in the exhibition matches showcasing Overwatch's fledgling esports league was the Florida Mayhem. They kicked off the first night of the Overwatch League exhibition matches playing against the San Francisco Shock, there in the stead of the Philadelphia Fusion. The Shock then played the Los Angeles Valiant. The day was capped by a super anticipated matchup, the Shanghai Dragons vs the Seoul Dynasty.
Production value was through the roof. In addition to the great camera work we started seeing during the World Cup at BlizzCon, there were also a ton of quickly produced stats cards. On top of that were small touches, like custom "plays of the game." The custom plays don't just riff on the popular in-game feature, they also make for a great take on the highlight reels in current sports.
The venue was even better than we saw at BlizzCon, now with a massive unbroken LED screen across the entire back of the arena. At the top of the arena among the light rigging, there's also an additional circular screen. The screen fills up just like the meter in-game as points are captured.
This thing fills up alongside the capture meter in-game! #OverwatchLeague pic.twitter.com/tpqqLXAph5

— Josh Lee 💙 (@PiscatorJosh) December 7, 2017
I found the whole thing to be an exercise in frustration. Given the constraints of my busy schedule, I'm usually unable to sit down at my computer for most of the day. Instead I rely on mobile apps and my Amazon Fire TV apps to watch my favorite esports. I was therefore mostly out of luck, since games were only streamed to overwatchleague.com or MLG.tv. The official site didn't even allow streaming through the browser on mobile. I was unable to find a way to close the chat that took up half the screen on MLG's mobile site, so the little action I did get to see on my phone was literally little — about the size of a postage stamp.
Still, it was fantastic to finally see everything literally years in the making finally come to fruition. According to unverified statements by a few of the League's players, this exclusivity is in place solely for the preseason, which I sincerely hope is the case. Also, the Overwatch esports team posted all the VODs super quickly so I can already go watch all the action I missed.
I won't have long to catch up, though. The matches continue starting at 4 p.m. Central today, and continue Friday at 6 p.m., and Saturday at 1 p.m. You can check the schedule on the official site to see when your new favorite team is going to play.