Hearthstone's Deathstalker Rexxar will get new beasts after all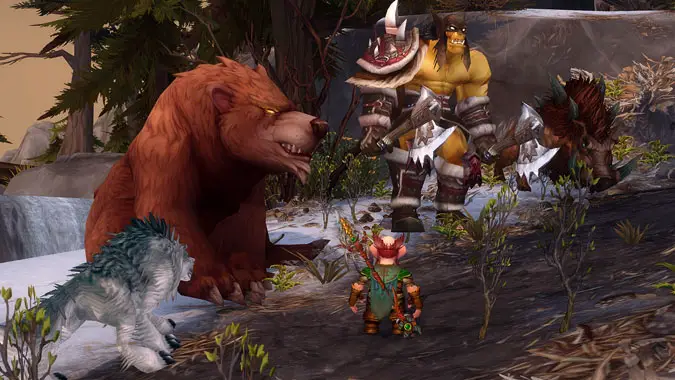 If you're a Hearthstone player, you may already know about the Deathstalker Rexxar hero card. If not, here's the skinny — introduced in Knights of the Frozen Throne, it has the Hero Power to create "Zombeasts" by combining two other beasts into a single, terrible unholy minion. It's a unique and unusual power, and it's one that sets the Deathstalker apart from others. But if you're playing Kobolds and Catacombs, you may notice that the card isn't giving you any of the recent expansion's new beasts.
Apparently, this was originally intended, but you guys got Blizzard to change their minds. It seems part of the original reason Blizzard didn't include new beasts in the Zombeasts pool has to do with localization issues and complexity. As a result, it's going to be a long, slow process to get new beasts included in the pool for the Hero Power. Still, more beasts to build loathsome abominations from can only be seen as a good thing. I mean, good in terms of playing Hearthstone. Please don't build any actual undead monstrosities from two beasts. Don't listen to Skullcrusher Mountain, guys. That half-pony, half-monkey creation isn't going to please anyone.
Keganbe also mentioned that some of the Kobolds and Catacombs beasts might be exempt for balance reasons, just as King of Beasts isn't included in the pool the Deathstalker can currently draw from. So if your favorite new beast never ends up in there, that might be the reason. There's no ETA on when the new beasts will be added, but at least we know that's the direction they're going.
Greetings,
Many players have noticed that Deathstalker Rexxar's Hero Power does not include any of the new Beasts that were added with the Kobolds & Catacombs expansion.
Since then, some players have provided constructive feedback regarding the state of Deathstalker Rexxar, and we agreed that a change to the Hero Power was warranted.
As such, we will be updating Deathstalker Rexxar's Hero Power to include new Beasts going forward. Please be patient, as this is a fairly complicated endeavor and we may need to start with a smaller change before a more permanent solution is implemented. We don't have a date for this change to share with you today, but we will provide more information once we have it.
Please also note that as new Beasts are released, we may need to mark some of them as exempt for various reasons, much like how King of Beasts is currently excluded from the pool of Beasts that Deathstalker Rexxar's Hero Power can pull from.
Thank you for providing constructive feedback. We see your love and passion for Hearthstone and believe that the best way to make Hearthstone better is to do so together.
See you all in the Tavern!