Kobolds and Catacombs comic Up Comes Down focuses on the little guys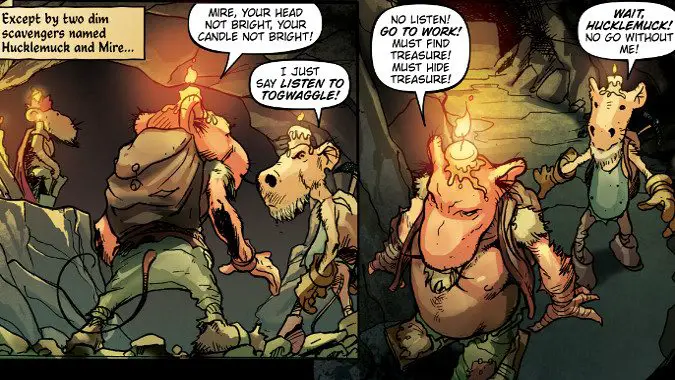 Okay, before I even get started on Hearthstone's new comic, let me just say that seeing Mark Evanier's name on it made me stop and gasp. I mean, that's a pretty huge get for the folks at Blizzard, getting Mark Evanier to write your comic. The beautifully evocative art is by Manuel García, with Sandra Molina on coloring. All in all, it's a surprising treat to find online today.
This particular comic, Up Comes Down is the story of two Kobolds, Hucklemuck and Mire. They're caught between the not particularly bright but spectacularly greedy King Togwaggle, the dangerous of the underground realm like Dragons, greedy adventurers and Feral Gibberers, and more. Will they talk too loud and make the ceiling low? Will they be press ganged into servitude by Marin the Fox? Most importantly, will they get to keep their candles? All this and more can be found in the pages of the latest Hearthstone comic. You can read it online, or download it for yourself in PDF format, whichever you prefer.
So far, Kobolds and Catacombs has struck me as the most fun Hearthstone has been in years. I love its paean to the old school tabletop RPG's that got me into gaming. Up Comes Down does a great job of reminding me of the old ads in the back of comic books. It's reminiscent of the comics one could find in the back of Dragon Magazine back in the day. Up Comes Down is a fun, lighthearted romp through the new expansion as seen through the eyes of a couple of lovable if somewhat dimwitted Kobolds. They're just out to keep in one piece and find shinies for their bossy new king. Definitely give it a read if you like fun stuff that doesn't take itself too seriously.