Winter Veil continues in Heroes of the Storm with new rotations and nerfs
Click here for more photos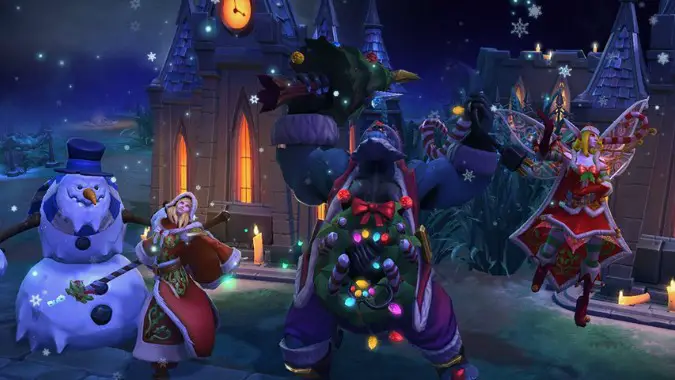 Happy Holidays, Heroes players! This week Winter Veil continues in Heroes of the Storm with some awesome holiday skins (above) and plenty of chances to win them. And if the search for skins isn't enough to get you in the spirit of the season, the new Snow Brawl gives you a winter wonderland to play in — so grab some snowballs and jump into the fun.
If that's not enough, we also have a new Hero coming our way: Blaze, is a fire-wielding Warrior based on StarCraft's Firebat. Our guess is that he'll be on the PTR next week, and land on the live realms the week after that. He'll be a bit of a late Christmas gift, but we aren't complaining.
However, it's not all good news. Balance changes last week hit Garrosh with a fairly significant nerf just in time for him to go on sale. If you, like Mitch, grabbed him at sale prices just before this balance patch went live, you have our sympathies.
Nerfs aside, you'll want to dive into the festivities soon if you want to participate. The Snow Brawl will be gone this Friday, though the Winter Veil quests will be sticking around until January 9. And on top of the holiday fun, there's a new hero rotation — though the sales and featured items are a rerun from last week. (Which, hey, gives you another chance to pick up the now-nerfed Garrosh!) Find them below.
Free Hero Rotation
Malfurion
Valla
Gazlowe
Johanna
Thrall
Dehaka
Diablo
Ragnaros
Azmodan
Lúcio
Falstad (Slot unlocked at Player Level 5)
Alarak (Slot unlocked at Player Level 10)
Ana (Slot unlocked at Player Level 15)
Medivh (Slot unlocked at Player Level 20)
Hero Sales
Garrosh: 375 Gems
Samuro: 375 Gems
Stukov: 375 Gems
Kael'thas: 312 Gems
Li-Ming : 312 Gems
Featured Items
Sunset Ana
Blackrock Garrosh
Sovereign Kael'thas
Neon Dragon Genji
Lil-Ming Timewalker Chromie
Floral Champion Lunara
Cold Warchief Sylvanas
Felblade Samuro
Jungle Novazon
Knight Owl Medivh
Crypt King Tassadar
Violet Flying Monkey Brightwing
Vice Admiral Krakenov
Draenor Hellhammer Thrall
Buccaneer Falstad
Horde Mad Axe Garrosh
First Ascendant Li-Ming
Tan Saddled Battle Beast
Red Horse
Magical Star Chariot
Dominion Marshal's Outrider
Toxic Demonic Hellsteed
Weekly Brawl