Watch the HCT World Championship and earn free Hearthstone card packs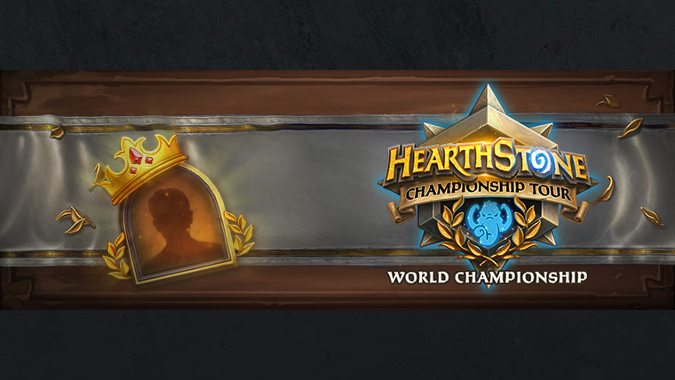 You like free card packs, don't you? Through Hearthstone's HCT World Championship, you can earn up to six free Kobolds and Catacombs packs simply by choosing your favored Championship contender. Everyone who participates will earn at least one free participation pack, and one additional pack for each best-of-five your favored Champion wins. Head over to the official Hearthstone website to see who's competing — and to cast your vote. All earned card packs will be delivered the week following the HTC World Championship, and if you intend to participate, don't drag your feet: voting ends January 16 at 11:59 p.m. Pacific.
The HCT World Championship takes place Jan 18 through Jan 21 and will be streamed live on Twitch.
Casters
Returning to the casting table for the HCT World Championship are:
Brian Kibler and Dan "Frodan" Chou
Simon "Sottle" Welch and Alexander "Raven" Baguley
TJ Sanders and Nathan "Admirable" Zamora
Format
The World Championship will have a dual tournament group stage, followed by a single elimination playoff bracket. The top two players from each group will advance to the playoff bracket.
Each group will consist of four competitors—one from each of the Seasonal Championships plus Last Call—and have been seeded based on the players results from those Seasonal Championships plus their Hearthstone Competitive Points. Each match will be best-of-five in Conquest format with one class ban, so all players will need four decks.
Schedule
The HCT World Championship will take place from Thursday, Jan. 18 through Sunday, Jan. 21. The schedule for World Championship is:
Jan. 18 at 8:30 a.m. CET – Group Stage
Jan. 19 at 8.30 a.m. CET – Group Stage
Jan. 20 at 8.30 a.m. CET – Elimination Stage
Jan. 21 at 4.00 p.m. CET – Playoffs
Prize Pool
A cool $1,000,000 is at stake this World Championship, and will be distributed as follows:
1st $250,000
2nd $150,000
3rd & 4th $100,000
5th – 8th $50,000
9th – 16th $25,000
Total $1,000,000
Watch Live
Don't miss the final, star-studded conclusion to the Year of the Mammoth! The HCT World Championship will be happening live on our official Hearthstone Twitch channel.
In the meantime, be part of the conversation with the #HCTAmsterdam hashtag, and find out what other exciting activities will be happening at the HCT World Championship by following our Facebook and Twitter!
And if it's free card packs you want, remember: this month you can claim two free Kobolds and Catacombs card packs with Twitch Prime.