The Blizzard World map is live in Overwatch
Click here for more photos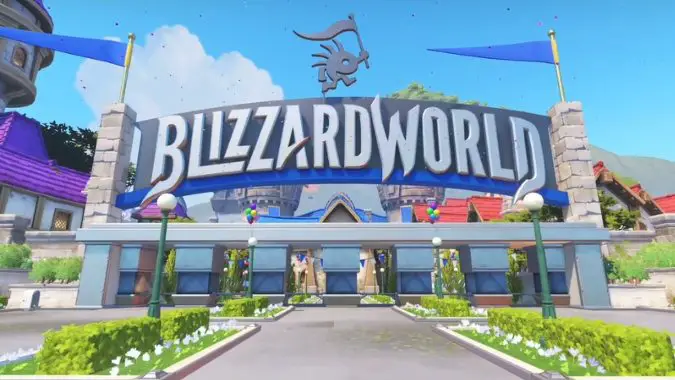 Update: Blizzard World is live! Enjoy, everyone.
After two months of PTR testing, Blizzard World is ready to open its gates to the public — in Overwatch, that is. The new map, a hybrid attack/payload, takes place in a theme park designed around Blizzard's games. The map features areas dedicated to Hearthstone, Heroes of the Storm, Warcraft, StarCraft, and Diablo, as well as a host of Easter eggs. Ever since its announcement at BlizzCon 2017, players have been itching to see its release. Thankfully, we won't be waiting much longer — the map arrives in game on January 23. The Overwatch Twitter account dropped the announcement yesterday, along with an admission ticket.
Epic memories can only be made in an epic world…

So, grab a ticket & join us for the GRAND OPENING of Blizzard World!

Your adventure begins January 23 🎟️ https://t.co/PHG4qA7dfP pic.twitter.com/5W2o73qElc

— Overwatch (@PlayOverwatch) January 17, 2018
The Disney-inspired Blizzard World looks like it's going to be endless amounts of fun. Of course, that's not all we're going to see in 2018. In Overwatch's first Developer Update of the new year, Jeff Kaplan pointed out that a new hero, "Hero 27," is actively in the works. In addition, players can expect to see updates to the Lunar New Year event and the Uprising event. Outside the game, the explosive debut of Overwatch League and its continuing matches have been exciting to watch.
Another addition players have been looking forward to is new rewards in the base loot boxes. Jeff Kaplan said they might make an appearance by the end of January. However, we don't know if we'll see them with the release of Blizzard World, as there's been no confirmation either way. Despite that, Blizzard World itself is a pretty massive addition, and one we're looking forward to playing. While you're waiting, check out more of Overwatch's latest map in our gallery. It might not be the real-world theme park we've all been dreaming of, but the new map is an obvious labor of love.