WoW
Jan 25, 2018 4:00 pm CT
Legion gets the Chris Metzen seal of approval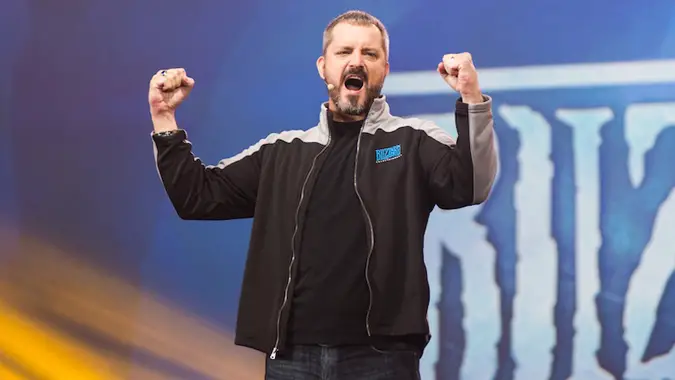 Chris Metzen finally gets to enjoy World of Warcraft as a free man. After 23 years at Blizzard Entertainment, Metzen retired from the company back in 2016. Shortly after, in a candid interview with Scott Johnson, he discussed the reasons behind his retirement, notably his struggles with anxiety, panic attacks, and trying to balance an "all-encompassing" job. Since then, we haven't heard much from him — until he gave us all a bit of a scare with a tweeted photo of himself after spinal surgery.
Spinal surgery – success!Unscathed beard – fail… :) pic.twitter.com/3NulKrzA8f

— Chris Metzen (@ChrisMetzen) January 11, 2018
It's certainly spooky to see a game development hero laid up in a hospital bed, but Metzen found a bright side to his recovery.
Well, recovery has given me ample Legion time. This thing is a masterpiece. This is the most fun I've had with endgame EVER. One raid to go!

— Chris Metzen (@ChrisMetzen) January 22, 2018
We have to imagine it's a wild experience to play World of Warcraft as merely a fan for the first time. World of Warcraft contains the man's blood, sweat, and tears, and it's been decades since Chris Metzen could see the world as anything but work. And, unshackled from the work, he was able to reveal a little about his personal tastes:
Human. Retribution. Paladin. Yes, I LOVE Thrall and the Horde a lot, but I've been playing human paladins since I was 12. #sturmbrightblade

— Chris Metzen (@ChrisMetzen) January 22, 2018
my 2nd 2 highest are Horde. Tauren Druid and orc warrior. Im a proud warrior of the Horde, son – but my heart is a paladin. :)

— Chris Metzen (@ChrisMetzen) January 22, 2018
We at Blizzard Watch wish Chris Metzen the best in his recovery — and hope he can find joy in World of Warcraft as a mere player, just like we have.